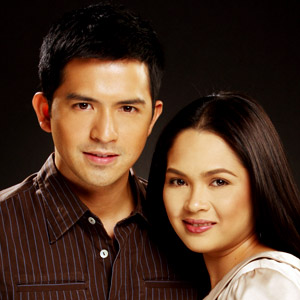 ---

Judy Ann Santos and Dennis Trillo are paired again in Mag-ingatka sa...Kulam, which will open in theaters nationwide starting October 1.Their previous project, Aishite Imasu 1941: Mahal Kita, earned forDennis breakthrough performance awards for his role as a homosexual whodisguised himself as a woman during World War II.
Regal matriarch Mother Lily Monteverde has two major reasonsto be hopeful for her 48th anniversary presentation titled Mag-ingat kasa...Kulam. First, it is the homecoming film of Regal baby Judy Ann whostarted out with her Regal movie Sana Naman (1989). Second, Dennis onceagain gets to display his mettle as a dramatic actor.


This time, he is tapped to play the husband of Juday, a woman who is involvedin a car accident and gets amnesia. Terrible things start to happen in her lifeand they must figure out whether Juday's character is kinukulam or ifshe comes from a family of mangkukulam.


Mag-ingat ka sa...Kulam will not only give the audiencea real good scare, but at the same time instill an understanding about the way"kulam" works and what we should do in case we become victims of it.
Dennis admits that he was starstruck with young superstarJudy Ann Santos when they first worked together in Aishite Imasu.
"Juday has always been the picture of excellence in theprofession and in her personal life for me," said Dennis. "In her own way, shehas inspired me to do better in my craft especially in the films that we didtogether. When you are with an award-winning actress, of course, you arepressured to be at your best, too. So I really enjoyed being with her for thesecond time in Mag-ingat ka sa...Kulam where she played my partner in themovie."
In an earlier presscon Judy Ann revealed that even if Dennisis known to be such a silent person, their bonding was centered mainly on theirkids. "Yes, Juday would always tell me to spend quality time with Calix [Dennis'son with Carlene Aguilar] because kids now grow up so fast. You very well knowthat Calix is my center of inspiration now. It was really such a joy to haveattended to his birthday party recently," Dennis divulged.
ADVERTISEMENT - CONTINUE READING BELOW
Mag-ingat ka sa...Kulam is a horror movie filled with alot of love. It shows Dennis' love for the craft and love of doing good movies.He has been blessed with other Regal projects such as Blue Moon (2006),Pamahiin (2006), Txt (2006), and Shake, Rattle and Roll 9 (2007).
As Regal celebrates its 48th anniversary in movie productionand distribution, Dennis looks forward to more and better projects that wouldhone him both as a person and as an actor.
Aside from Judy Ann Santos and Dennis Trillo, Mag-ingatka sa...Kulam stars TJ Trinidad, Mart Escudero, Kris Bernal, and Sharlene SanPedro (the daughter of Dennis and Judy Ann in the movie). Written and directedby Jun Lana, Kulam will usher in the Halloween month and is showing onOctober 1 in theaters nationwide.