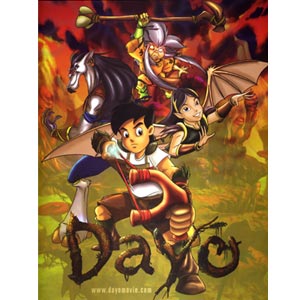 ---

Dayo (Wanderer) is a full-length animated filmthat combines paperless 2D and 3D technologies. Currently, the film is 75percent done and is expected to be completed by November in time for the 34thMetro Manila Film Fest. By then, the film would have been completed in just twoyears, much shorter compared to the usual three years needed to complete atraditional full-length animation. The team is now done with the roughanimation and is now on the "digital ink and paint" stage. Over 500artists nationwide worked together to complete this project.
This Pinoy animated film is a hybrid product of combining 2Dand 3D animation, powered by Toon Boom using Macintosh and Linux platforms. 2Danimation is used for the characters while 3D animation is used for the backgroundsespecially for the big scenes.

It wasn't easy for Cutting Edge Productions, the local animators behind Dayo,to enter the annual film festival. When they submitted the script by Temi Abadand Eric Cabahug for consideration, the committee didn't immediately accept it.But the team didn't give up and insisted on presenting the project until theyconvinced the committee that they could do it. The primary consideration wastime constraint and meeting the deadline especially for first time producers.Remarkably, Dayo made it to the final 8 out of the 19 hopefuls.
Dayo is a heartwarming story of overcoming one's fearand triumphing over adversity. The plot revolves around Bubuy (voiced by NashAguas) who is out to save his abducted grandparents in the land of Elementalia,a magical and mystical world that houses many of the Philippines' mythicalcreatures and other enchanted elements.
The creative team of Dayo consulted publishedliterature on local mythology. Their main reference is the book Creatures ofPhilippine Lower Mythology written by Maximo Ramos.

This movie aims to reintroduce the other side of mythical creatures like thetikbalang, kapre, manananggal, and aswang by giving a new dimension to theseusual reviled creatures. "They are normally presented as predators orportrayed as villains," explains director Robert Quilao. "We createda new twist to these characters by transforming the scary manananggal into thefriendly manananggol (defender) who acts as the guardian of Elementalia."
ADVERTISEMENT - CONTINUE READING BELOW
Quilao also shares that every step of the project has been achallenge for the team, "but the storyboarding stage was perhaps thetoughest because it involved setting the mood and look of the wholeanimation." Working on the story and writing the script also took time. Athree-day story conference was held in Tagaytay just to brainstorm on thestory, while it took the team three to four months to finish the script.
The team already had talents in mind when they were workingon the characters except for the lead roles of Bubuy and Anna, which they heldauditions for. For instance, they already had Pokwang in mind for themanananggal yaya of Anna, hence the character sketch is loosely based on her.The team also thought of how it would be like to have Pokwang exchange lineswith news anchor Mike Enriquez. However, they were unable to get the realanchor of GMA-7 to voice over the animated character so they got a voice talentwho only sounds like Mike Enriquez.


Since the project is fully digital, it's easy to animate thestoryboard (also known as animatics). No storyboard could even be seenplastered on the office walls or workstations of Cutting Edge. While thedrawing is done traditionally by hand, it's executed directly onto the computerscreen or PC tablet, hence, Quilao labels the project as"tra-digital" animation.
Although it's rather difficult and expensive to produce ananimation project, "it's the only content we can sell abroad,"justifies Jessie Lasaten, executive producer of Dayo and chief executiveofficer of Cutting Edge. "The world is our market. The idea is to recoverhalf of the investment in the local market, and half of it worldwide. But ifwe're lucky, we can recover the whole investment locally." Lasaten revealsthat Cutting Edge has spent around $1.3 million (around P58 million) to produceDayo.
SYNOPSIS. Dayo is about an 11-year old kidnamed Bubuy (voiced by Nash Aguas) who wants to save his beloved grandparents(voiced over by Nova Villa and Noel Trinidad). Along the way, Bubuy meets AnnaManananggirl (voiced by Katrina "Hopia" Legaspi), a teen manananggal (a wingedcreature that can separate her torso from her lower body) who befriends andhelps Bubuy in his quest to rescue his grandparents.
ADVERTISEMENT - CONTINUE READING BELOW
Together, they journey to Elementalia, a fantasy land filledwith strange flora and fauna, and a host of popular creatures from Philippinemythology. They see massive waterfalls teeming with gravity-defying merfolk; anawe-inspiring crystal cave that houses a swarm of colorful alitubi; a grand oldtree that's home to a motherly female kapre; and a majestic mountain guarded bya big pack of hungry aswangs.
Johnny Delgado is tapped to be the father of AnnaManananggirl while his wife Laurice Guillen lends her voice to minor characterslike a diwata or fairy. Director Peque Gallaga serves as the voice of the nunosa punso. Bubble Gang mainstay Michael V plays a narcissistic tikbalangnamed Narsi. The teen manananggal has a Yaya Vicky (voiced over bycomedienne Pokwang).
Viewers can watch the animated film
Dayo
whenit opens on Christmas Day, along with seven other entries of the MMFF.
Click
HERE
to view the animated characters of
Dayo
.