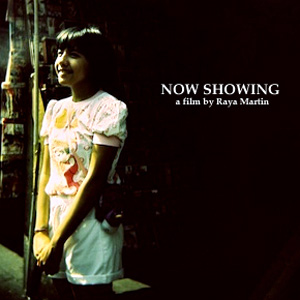 ---

Raya Martin, an alumnus of the University of the Philippineswill be screening his film NowShowing in his alma mater this week. Envisioned to be the first part of atrilogy called "Box Office," Now Showing tells the story of a female DVDseller stationed in downtown Manila. The second and third installment of thetrilogy is titled Next Attraction and Coming Soon.
Theater actress Ness Roque plays Rita, a young girl sellingpirated DVD movies in the movie Now Showing. This film by Raya Martinhad its world premiere in the 40th Directors' Fortnight of the Cannes FilmFestival earlier this year, in the same batch that Brillante Mendoza's Serbis was shown.
Running at 4 hours and 40 minutes, Now Showing is acoming-of-age film that incorporates clips from the '60s Filipino movie, Tunayna Ina. The film project received the Hubert Bals Grant at the CinemanilaBoracay Co-Production Meeting in 2005. Post-production is supported by IgniteMedia, Inc.


Twenty-three year old filmmaker Raya Martin lived in Paris, France for sixmonths as a scholar of Festival du Cannes' Cinéfondation—making him the first Filipino to be accepted in the prestigious institute. His first feature, ShortFilm About the Indio Nacional, was screened at the Rotterdam InternationalFilm Festival in 2007. Raya's second film Autohystoria won the LinoAward Grand Prize and Best Director in the ninth edition of the CinemanilaInternational Film Festival. Martin is also the first Filipino to be grantedthe Fond Sud by the French government for his film currently indevelopment, Independencia, a family drama that takes place during the American occupation.
Now Showing (2008)
Screenplay: Raya Martin
Director of Photography: Albert Banzon
Producer: Arleen Cuevas
Co-producer: Atopic Films, France
Supported by: Hubert Bals Film Fund of International FilmFestival Rotterdam, Netherlands
Associate Producer: Adolfo Alix Jr.
Editing: Lawrence Ang
Production Design: Digo Ricio
Cast: Ness Roque, Adriana Agcaoili, Meila Romero, DaisyCarino
Shooting format: analog and digital video, 16mm
ADVERTISEMENT - CONTINUE READING BELOW
Total running time: 4 hours, 40 minutes
Screening schedules:
September 25(Thursday) at 5 pm
September 27(Saturday) at 2 pm
Venue: Film Institute, University of the Philippines,Diliman, Quezon City
Tickets are priced at P100.