South Korean actor/reality TV star Ricky Kim was recently in Manila for a series of events.

The 36-year-old actor brought along his wife, Ryu Seung-joo, and their three kids Ellysen Victoria Neely, Asher William Neely, and Taylor Neely to meet with their Filipino fans last August 5 at SM Megamall in Mandaluyong City.
Ricky and his family is best known for their appearances on Korean reality shows Oh! My Baby and Let's Go Dream Team!



PEP.ph (Philippine Entertainment Portal) caught up with Ricky at the launch actor/restaurateur Marvin Agustin's newest business venture, the GEN Korean BBQ restaurant, at SM Mall of Asia Seaside.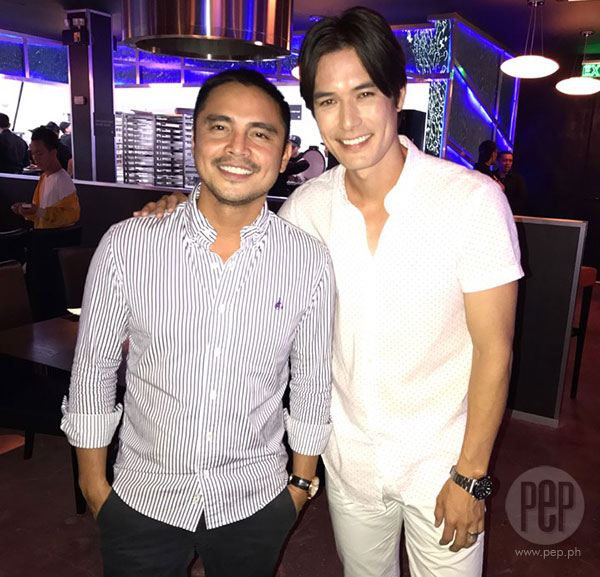 HEAVEN'S QUEST. During the interview, Ricky expressed his excitement for his latest movie project titled Heaven's Quest. The American-Korean actor said this is his first time to produce and co-direct a film.
He told PEP, "It's my first time acting in an American/Hollywood movie, producing, and helping directing.
"It was a fun project for me and it's a really good movie so I'm excited to show the people the story, I'm excited to show the people what we did and to show what we're gonna do next."
The film is reportedly based on the 1678 Christian allegory The Pilgrim's Progress written by John Bunyan. Australian actor Patrick Thompson will lead the cast of the movie along with Peta Sergeant, Fernanda Romero, lan Powell, and Korean actor Cha In Pyo, among many others.
Ricky said, "It's about a guy's journey about being lost and how he becomes a man, he finds love and he finds what he wants to do in his life.
"It's a a fantasy movie, very fantastic. There's a lot of special effects, a lot of fighting... the wardrobe, the dialect, everything's just great so I'm excited."
Aside from producing the film, Ricky said he will also portray the role of Prince Elikai Xan in the film.
He narrated, "My character is a savior, he saves a character from almost dying and he shows him a new life."
Filming for the movie has started and is expected to be released in 2018. Ricky said it took him about three months to prepare for his role.
He explained, "The journey of being an actor is about searching about realness, so it took a long time to search what the realness of the character was.
"The depth of the character was tremendous so a lot of preparation has been made."



NEW FIELD. Ricky said it has been his long time dream to work behind the camera, which inspired him to work on Heaven's Quest.
He admitted, "I've been an actor for so long, I have always been interested in directing and producing so being a producer and director, you can be more creative.
"As an actor, I have to do what the writer or producer says, so now, I can help the actor act better, the director direct better.
"And I can provide things more on the business side of being the producer so I enjoy the larger responsibility."
When asked which among producing, directing, and acting he enjoys the most, Ricky answered, "I love being the producer, it's a lot of fun. The acting part's really hard but it's fun to do both right now."