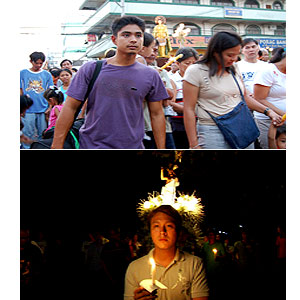 ---

Just a few days after winning two awards in the 6thInternational Pacific Meridian Film Festival in Russia, BrillanteMendoza was once again honored in an international film fest. Brillante,first-time filmmaker Francis Xavier Pasion, and John Torres were among thedirectors who won in the recently concluded Bangkok International FilmFestival.
The sixth edition of the Bangkok IFF took place fromSeptember 23 to 30 in Thailand. Ferdy Lapuz, one of the producers of
Serbis
,say that this film won the Golden Kinnaree Award in the Southeast Asiancompetition at the Bangkok IFF.
Serbis
shows the life of a family whooperate a run-down movie house showing sex flicks in Pampanga. Gina Pareño,Julio Diaz, Jaclyn Jose, Coco Martin, and Kristoffer King are some of the starswho topbill this award-winning film.
The Cinemalaya 2008 entry Jay, directed by FrancisXavier Pasion, bagged the Special Mention Award in the main competitioncategory. Baron Geisler and Coco Martin appear in this film about a TV producer creating a documentary about a homosexual teacher.


John Torres' Years When I was A Child Outside won special mention in theSoutheast Asian competition. This 2007 Cinemanila International Film Festivalentry is also known for its alternative title is Taon noong ako'y anak salabas.
According to the official website of the Bangkok IFF, theGolden Kinnaree Award "symbolizes the creative spirit—looking to the future,while respecting the achievements and traditions of the past—flying between theworlds of reality and imagination." This award was won by Brillante Mendoza forSerbis.
The winners were chosen by a six-member jury panel,including Thailand-based, Lao-Australian-ethnic actor Ananda Everingham,Swedish festival artistic director Martial Knaebel and Singaporean directorEric Khoo. The Bangkok IFF has two divisions: the main competition andSoutheast Asian competition, each featuring 10 films from the world and theregion.
The Bangkok IFF screenedaround 80 films from over 40 countries during its week-long run.