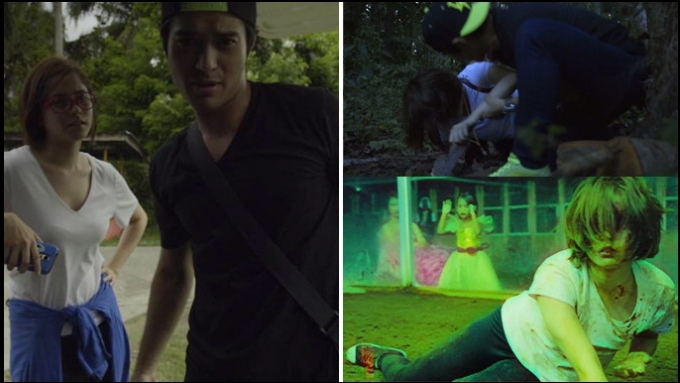 ---
"Salvage is a found footage horror film. Thrills and glitches included in the film."
So goes the copy in a promotional material for Salvage, which was first screened as a special presentation film at the 2015 Cinema One Originals film fest. It is now an official entry to the ongoing Pista ng Pelikulang Pilipino nationwide film fest organized by the Film Development Council of the Philippines (FDCP).
For moviegoers familiar with the found footage genre, as popularized by the 1999 Hollywood hit The Blair Witch Project, the glitches are expected as this film style evokes the look and feel of an unedited documentary.

As a result, a lot of the shots in Salvage are out-of-focus, discolored, and jarring—because the director, Sherad Anthony Sanchez, would like the audience to immerse themselves inside the bizarre situation that the protagonists get into.
The film also makes innovative use of night vision mode that turns the pitch-black darkness into a glowing expanse filled with pink and green lights.
ADVERTISEMENT - CONTINUE READING BELOW
The protagonists make up a TV news crew: reporter Bong (Joel Saracho), segment producer Melay (Jessy Mendiola), cameraman Neil (JC de Vera), makeup artist Barbie (Barbie Capacio), and van driver Manny (Karl Medina).
They are sent to a small town in Mindanao to do a story on the numerous killings that the locals say are perpetrated by aswangs that inhabit the area.

When they can't find their destination, they stop by a checkpoint to the military men stationed there, for directions.
They soon realize they've found the right place as horrifying things start happening to them, things that are simultaneously real, unreal, and surreal.
Direk Sherad succeeds in giving Salvage the requisite treatment of a found footage horror film that sends chills to the viewers because his film is saying that humans and aswangs can be one and the same.
He comes short, though, in telling a cohesive and persuasive story as there are parts in the movie that confuse and confound the audience.
ADVERTISEMENT - CONTINUE READING BELOW
Maybe the believability factor and sympathy aspect would've been strengthened if Jessy Mendiola's Melay character, who serves as the movie's fulcrum, was made to suffer more physically, emotionally, mentally, and even spiritually.
It's rather odd that when Melay falls in the hands of the supposedly heartless perpetrators, she's not harmed enough compared to her companions.
It also doesn't make sense when the hapless news team gets pursued but the pursuers suddenly disappear without a trace.
Melay goes running frantically until she reaches a place where a festival or a ritual is happening, and she ends up dancing crazily with the participants.

In the next scene, she lies in fetal position on a cement floor, her body neatly covered by her hardly damaged white tee and skinny jeans.
At the other end, there's Melay's colleague Bong, who's shirtless, his big belly exposed. He wears a rope around his neck and goes down on all fours like an animal.
ADVERTISEMENT - CONTINUE READING BELOW
The antagonists are supposed to be evil but they look scared of Melay, especially when she goes on screaming. Instead of ganging up on her and torture her, perhaps, they keep a distance from her and just throw a stone at her.

Such shortcomings mar the movie's strong stand about the real aswangs.
You will have a lot of questions after watching but Salvage will linger in your memory long after you've left the cinema.

Ed's Note: The "PEP Review" section carries the views of individual reviewers, and does not necessarily reflect the views of the PEP editorial staff.



---
Stories We Are Tracking
---