Miss World Philippines 2017 Laura Lehmann and Reina Hispanoamericana Filipinas 2017 Teresita Ssen "Winwyn" Marquez recently inked a contract with Regal Entertainment, Inc.

They are slated to star in the movie Palibhasa Babae.
Their fellow Miss World Philippines 2017 titlists—Miss Eco Philippines Cynthia Thomalla, Miss Multinational Sophia Senoron, and 1st Princess Glyssa Perez—will join them in this film.
The contract signing took place at Valencia Events Place in Quezon City last October 10.
Laura, 24, is thrilled to show that they are more than just pretty faces.
"I think what's really nice and what's really special about this is that through Regal Films, we can prove that we're not just beauty queens.
"It's not all about looking good and putting on make-up, but may talents din kami. We can act—or we can try."
Laura continued, "I'm glad that the pageant world can now mix with the film world and open more doors for a lot of people."
Winwyn, 25, is happy to be a Regal baby, especially since her parents, Alma Moreno and Joey Marquez, are former Regal babies.
"My parents are original Regal babies. Now, isa na rin akong Regal baby, and maybe magkakaroon ako ng movie with my parents.
Before becoming a beauty queen, Winwyn was already a talent of GMA Network.
"I'm into acting as well," she continued.
"This is an opportunity and a platform for me to show that I can also act.
"I'm very happy for us girls because we can show that we're not just beauty queens, but we can do other things as well."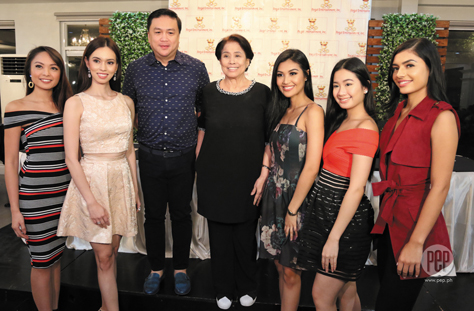 DREAM LEADING MEN. The five girls are slated to do a movie titled Palibhasa Babae.
However, there is no date yet when cameras will start rolling because some of them are still preparing for their international competitions.
During the presscon, the girls were asked to name their dream leading men.
Laura answered, "I think for every girl who's starting in the business and for every young girl, we all always look up, or maybe look after Piolo Pascual. Siya talaga ang idolo nating lahat, so for us it's our dream.
"But I know there are a lot of gwapo young boys, who are also Regal babies, so we're excited to work with anyone, basta mabait sila, and they treat us like the queens that we are."
Winwyn said that she wants to work with her boyfriend, actor Mark Herras.
However, she said that she is willing to work with any actor that management will pick for her.
Sophia, 17, said that getting the chance to act alone is enough for her.
"I think I'll be grateful to just be able to be working with other celebrities, because I'm still starstruck, so I'm just really grateful for the experience, and I don't think it really matters who I work with."
Cynthia, 22, said, "I'm really honored to work with anyone as long as the person tries to teach me into showbiz… anyone who is willing to help and treat us right."
Glyssa, 22, replied, "Ako din po, any leading man. I think what's important is that I get along with that person, that we connect and help each other."