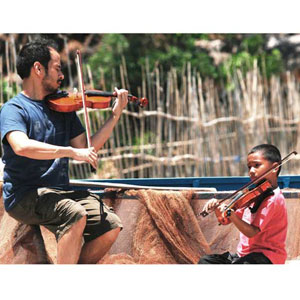 ---

The Cinemalaya 2008 film Boses is graded "A" by theCinema Evaluation Board, allowing it to receive a 100 percent tax rebate. Thismakes Boses the second Filipino film this year to be given a unanimousgrade of "A" after the Sharon Cuneta starrer Caregiver.
A source reveals that the CEB members found the film to bewell-crafted and showed "deeply-felt acting by both veterans and newcomers,evocative photography, creative editing and effective design and found it notonly beautiful but meaningful as well, without being preachy and admirablyunderstated."
According to Direk Ellen, the Movie and Television Reviewand Classification Board gave Boses a PG-13 rating with the remark that"although there is need for adult supervision, it should be viewed by everyonefrom grade school up."


Directed by Ellen Ongkeko-Marfil, Boses tackles thehealing power of music by telling the story of an abused child (played byJulian Duque) who regains his voice by learning to play the violin under areclusive musician (portrayed by renowned violinist Coke Bolipata).
Ricky Davao is cast as the abusive father while Cherry PiePicache is the head of the children's center where the character of Julian istemporarily sheltered.
In celebration of National Children's Month this October, afree screening of Boses will be offered at the Cultural Center of thePhilippines Dream Theater this Saturday, October 11, at 2:25 pm.
On October 18, councilor Dennis Alcoreza and the TondoAsenso Community Foundation will screen the film at the Don Bosco Parish Gym inTondo for the parents, teachers and children of district 1.
Boses will also be the opening film of the four-dayfilm festival at FEU Manila starting November 18. This event is organized bythe President's Committee on Culture, the Film Society and the Office ofStudent Affairs.
ADVERTISEMENT - CONTINUE READING BELOW
Internationally, it will have screenings at the LouisVuitton Hawaii International Film Festival on October 11 and 13. AnotherCinemalaya entry, Brutus, will also be showcased in the same film festbut under the Green Cinema section.
The heartwarming tale about the friendship of a boy and areclusive violinist will compete at the Women's International Film andTelevision Showcase in West Hollywood slated for December 4-7, 2008.
Direk Ellen is hoping to screen her film in selectedmainstream theaters in Metro Manila by late November or early December. Bosesis being endorsed by the Catholic Educators Association of the Philippines.
For inquiries for special screenings, please send an emailto boses08@gmail.com or call Laarni Aranas at 09198274100. They would like toinform the public that they are pre-selling tickets to schools andorganizations with a package for a free screening for their beneficiarycommunities.