Kris Aquino has consistently shown her support for Kim Chiu and the latter's horror movie The Ghost Bride.
Just recently, Kris posted on her video blog that she watched the Star Cinema movie together with her son Bimby. The former ABS-CBN actress revealed that she reserved a whole cinema for them to watch the Chito Roño horror film.
After watching the movie, Kris and Bimby told Kim what they realized after watching The Ghost Bride.
During their eight-minute chat, Kris delivered some of the darndest, quotable quotes!
1. Kris empathized with Mayen (Kim's character) when the latter was fooled by one of the film's characters.
That is why Kris believes that he deserved his surprise, tragic death.
She told Kim, "Na-feel ko lang doon na parang masama yun na magpaasa ka ng babae. Kaya noong na-dead siya, good for him."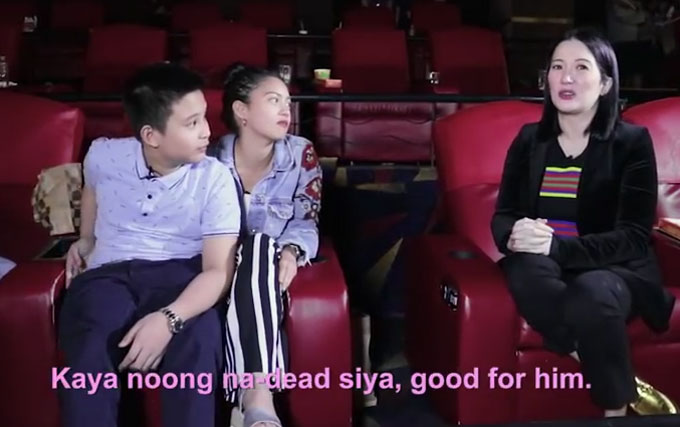 2. Kris and Bimby were amazed to see Kim's scenes that were shot in Nepal.
Bimby then believes that The Ghost Bride is such a big-budgeted film.
He then told Kim and Kris, "My estimate, can I say my estimate, Mama?"
Laughing, Kim blurted out, "Ten years old pa lang po ito, ha!"
Bimby then said, "700 million."
Kim exclaimed, "Grabe! Ang laki Bimb, ha!"
3. Kris realized that Kim had no love team partner in this movie.
This is one of the few films that Kim did wherein she had no leading man by her side. This happened for the 2015 movie Etiquette for Mistresses, which also featured Kris as one of the lead stars.
Kim also had her fair share of hit movies and teleseryes with her two perennial love team partners: Gerald Anderson and Xian Lim.
Kris then told the Chinita Princess, "Na-proud ako sa 'yo kasi ito and I think lahat tayo, we should ano... This is a movie that brought out the best in Kim because it was not reliant on a partner.
"This was Kim Chiu just being Kim Chiu as Mayen. Yun ang maganda kay Direk Chito kasi ang babae naha-highlight sa babae talaga."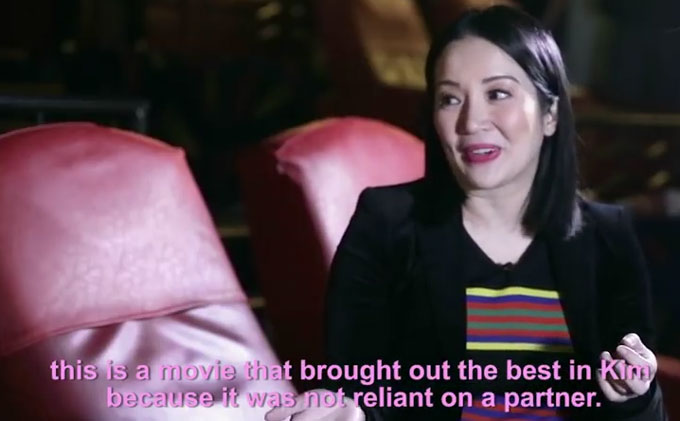 4. Kris praised Kim's face for being poreless.
She then told Bimby her observation: "Bimb, she has no pores."
Bimby answered her mom, "You don't have pores."
Kris then pointed out, "Yeah, we don't also. But she also doesn't have!"


5. Bimby raised a few questions after watching the film.
"Why did the ghost protect you? And why did you fight them? You're so mean to them. They protected you."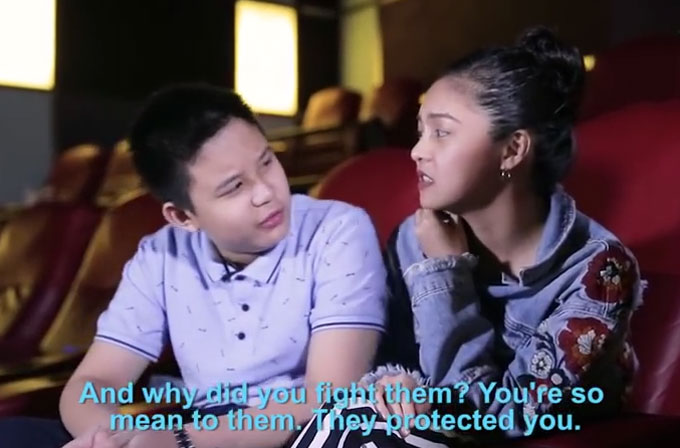 6. Kim told Kris that for the second half of the movie, she was not allowed to wear make-up.
Kris then asked, "Walang make-up 'yan?"
Bimby then blurted out, "No there's powder, of course, Mama."
Laughing, Kris realized, "At talaga kaming dalawa judgmental kami!"
However, The Ghost Bride lead actress insisted that she did not put on any make-up.
Bimby still insisted, "I'm sure there was a little bit, like a dab."
Kris then told her son, "Wala daw. Let's believe her na lang when she says there's no powder!"
Bimby then realized, "I really have Kris Aquino blood."

Of course, Kris agreed. "I know, we know right."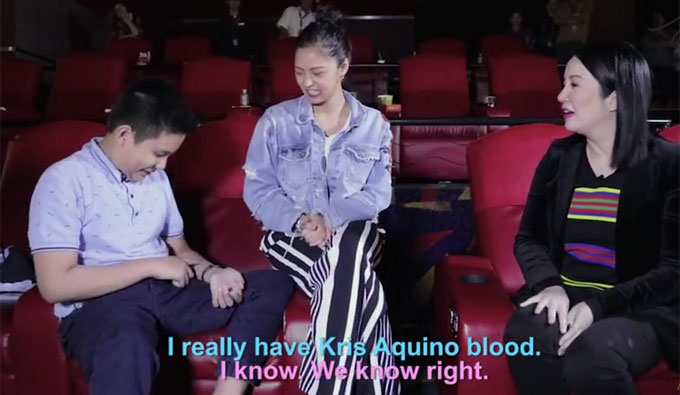 7. At the end of the video, Kris said that she prayed for Kim to find a "true and lasting love."
She said, "Pinag-pray pa kita kagabi nung nagma-mass kami sa Padre Pio, na sinabi ko talaga na... sinabi namin na sana, may you find true and lasting love. Talaga kasi gusto namin for you."
Kris then said something that surprised both Bimby and Kim.
She continued, "Kasi ayaw namin ng hindi supportive sa 'yo. Yun lang."
Bimb tried to stop his mom but to no avail.
Kris immediately realized, "Ay talagang di rin napigilan ang sarili!"

Kim only said in jest, "Mag-ina po sila!"