In the month of December every year, moviegoers are treated to a selection of Filipino-made movies during the Metro Manila Film Festival (MMFF).
Now on its 43rd year, the MMFF is debuting eight films on the big screen starting on December 25, including three comedies, one horror film, a musical, two love stories, and a Filipino komiks classic.
The MMFF 2017 official entries this year are: Deadma Walking, Gandarrapiddo: The Revenger Squad, Meant to Beh, Haunted Forest, Ang Larawan, Siargao, All of You, and Ang Panday.
Here's what's in store for movie-going audiences during the much-awaited film festival this 2017:
SIARGAO
Director: Paul Soriano
Producer: TEN17p Productions
Cast: Jericho Rosales, Erich Gonzales, Jasmine Curtis Smith, Luke Landrigan, Wil Dasovich, Mica Javier, Roxanne Barcelo, Will Devaughn, Suzette Ranillo, and Leon Miguel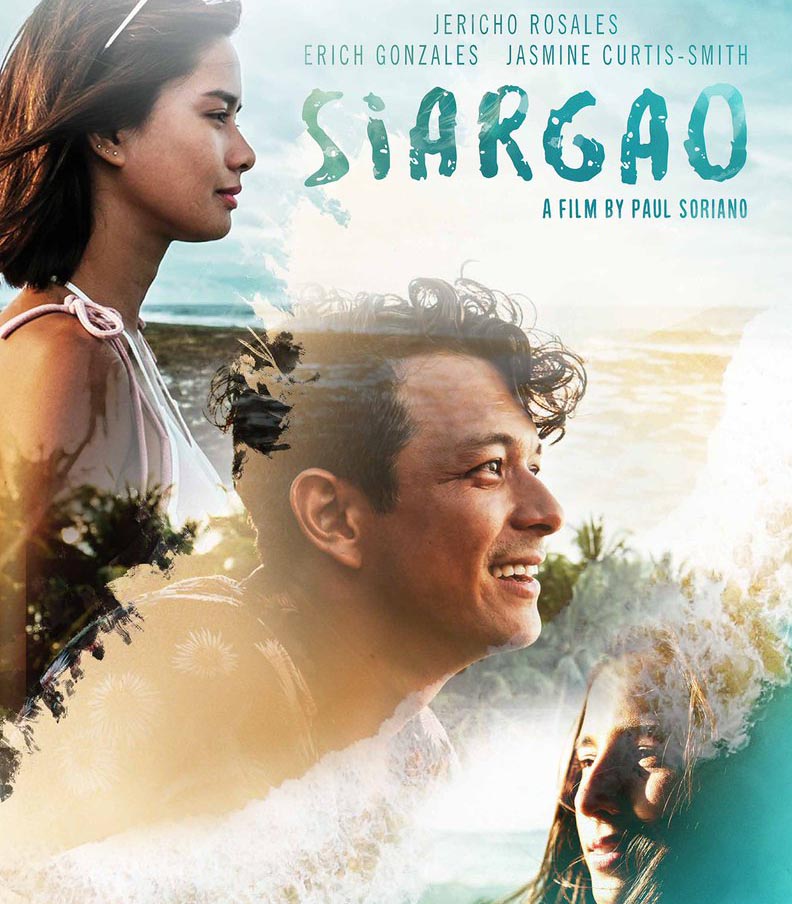 Jericho Rosales's character Diego says this at the beginning of Siargao's trailer: "Imagine if ang buhay natin may reset button. Just press reset, then one epic wipeout lang, done. Burado lahat." This sounds like a statement from someone who is trying to start anew.
Diego comes home to Siargao after a long time. On the way, he shares a ride with a video blogger, Laura, played by Erich Gonzales. Laura is fresh from a painful breakup and is looking to move on and find a new adventure. While spending time together on the breathtaking island, Diego shares with Laura some travel tips: number one, expect to see the same people at parties. Number two, make friends. Number three, island life is beautiful.
One of the things that Diego needs to face is his past love, Abi, played by Jasmin Curtis Smith, who joins him and Laura on the island. It would be interesting to find out how this love triangle pans out.
MEANT TO BEH
Director: Chris Martinez
Producer: Octo Arts Films, MZet TV Productions, Inc., and APT Entertainment
Cast: Vic Sotto, Dawn Zulueta, Gabbi Garcia, Andrea Torres, Sue Ramirez, Ruru Madrid, JC Santos, Baste, Daniel Matsunaga, Paolo Ballesteros, Jose Manalo, Wally Bayola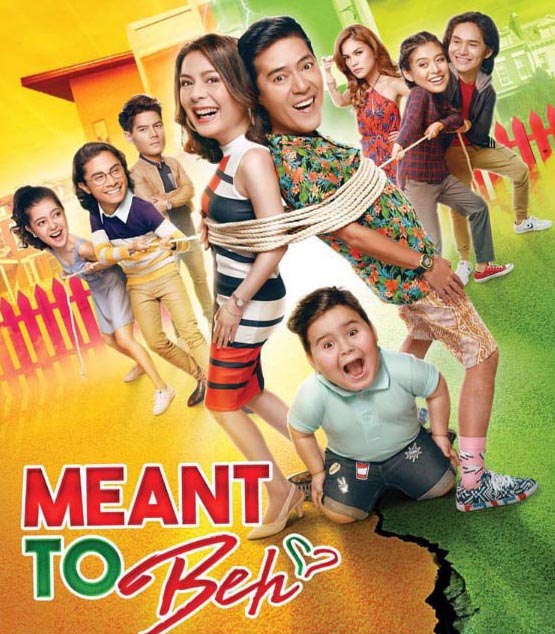 In Meant to Beh, The Balatbats are a picture-perfect family. Vic Sotto is Ron, the ideal "lodi" father, while Dawn Zulueta, who plays Andrea, is a magazine editor. They are a fun-loving family, but the differences between Ron and Andrea have caused them to drift apart. Andrea calls Ron "jolog, jejemon, puro kabaduyan"; while Ron calls his wife "elitista, pretensyosa, puro kaartehan." It turns out, the two have absolutely nothing in common. Andrea suggests that it's time for them to separate, and they break the bad news to their kids.
Confrontation scenes ensue between Andrea and Ron's apparent "other woman," as well as between Ron and another man, played by Daniel Matsunaga (which funnily ends in a game of bato-bato pick). Their children decide it's time to end the madness, take matters into their own hands, and launch the Balik-Balatbat Program to bring their parents back together. It's time to find out if Ron and Andrea are "meant to beh" or "not meant to beh."
HAUNTED FOREST
Director: Ian Loreños
Producer: Regal Entertainment
Cast: Jane Oineza, Jameson Blake, Jon Lucas, Maris Racal, Jerald Napoles, and Raymart Santiago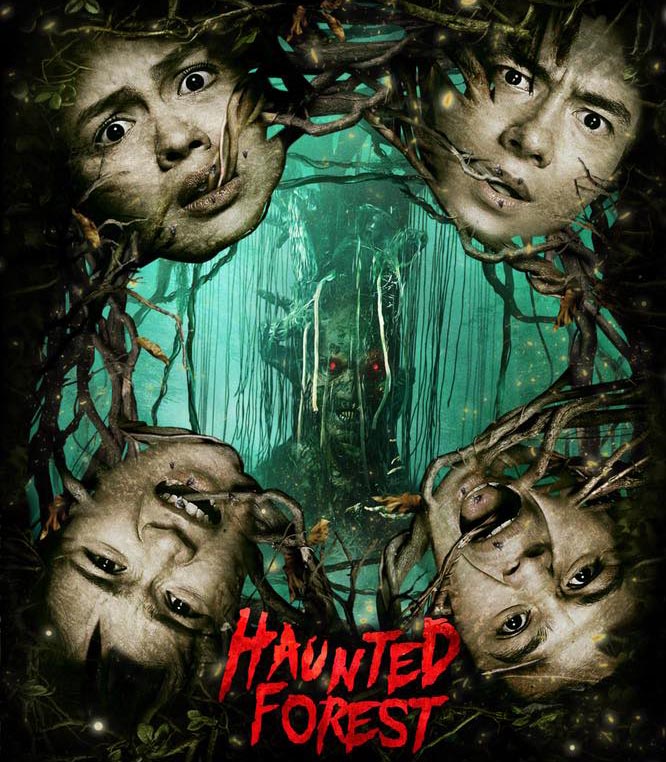 In the tradition of Regal Films horror flicks, Haunted Forest begins its trailer with horrifying shots of a woman's decaying body. Two men, played by Raymart Santiago and Joey Marquez, are sharing a drink while talking about the rise in the number of women found dead in their community. Joey warns Raymart to take good care of his daughter, and not to let her go out at night. There is talk of a dark creature called the sitsit, which is behind all the killings. Raymart doubts that there is truth to this, and demands that Joey produce a witness. "If you have a witness, tell that person to stop reading too many comics," Raymart says.
Raymart's daughter is Nica, played by Jane Oineza, who enjoys going out with friends, including RJ, portrayed by Jameson Blake. In the next scene, Nica is shown in the forest, baffled and frightened by the light of fireflies and hissing sounds. At home, she appears possessed by an evil spirit as she hurts herself by scratching her arms. The sitsit appears and grabs Nica in her sleep. Raymart tries to comfort his daughter as Nica screams desperately for her mom.
Mich, a friend of Nica's, played by Maris Racal, offers help even if Nica refuses. An old man performs a ritual and reads prayers from a booklet. They are running out of time as a snake-like creature wraps itself around Nica and captures her. The sitsit is shown sitting still, waiting for its next prey in the haunted forest.
GANDARRAPIDDO: THE REVENGER SQUAD
Director: Joyce A. Bernal
Producers: Star Cinema and Viva Films
Cast: Vice Ganda, Daniel Padilla, Pia Wurtzbach, Karla Estrada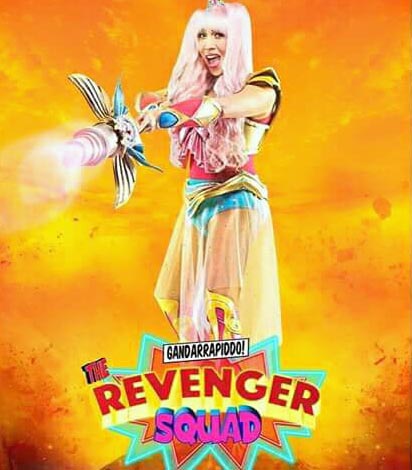 At the start of the trailer of Gandarrapiddo: The Revenger Squad, everything seems normal for Chino, played by Daniel Padilla. Chino is under the care of Emy, played by Vice Ganda, whom Chino lovingly calls "Meme." When Emy catches Chino spending time at the race tracks because of a beautiful girl, played by Pia Wurtzbach, Emy is enraged.
It is revealed that Chino is about to turn 21, at which time his super powers will be activated. Their family resolves to do everything to make Emy remember that she is actually Gandarra, a superhero, so she can save Chino's life from danger. On Chino's 21st birthday, Emy makes a wish for Chino to be a bank teller, but Chino argues that he wants to become a soldier.
In another land, someone appears to be searching for Gandarra, and promises that they will find her soon.
Emy's family whacks her on the head until she remembers her real identity: "Ako si Gandarra!"
This marks the launch of the The Revenger Squad, "ang bagong tagapagtang-goals ng bayan," fighting evil forces, and defending the helpless from invaders and oppressors.
ALL OF YOU
Director: Dan Villegas
Producers: Quantum Films and MJM Productions
Cast: Jennylyn Mercado, Derek Ramsay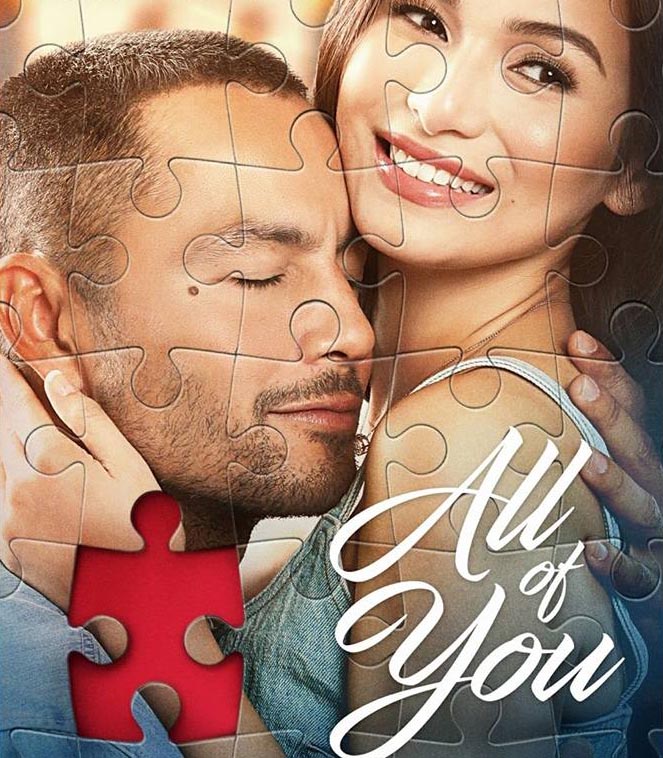 With the help of a dating app, two people meet: Gab, played by Derek Ramsay, and Gabby, portrayed by Jennylyn Mercado. In the trailer of All of You, it is obvious that the two instantly hit it off on their first date. As they were about to call it a night, Gab pretends that his mobile phone battery is running low, so he needs to charge it at Gabby's house. They end up spending the night together, and Gab later reveals that he didn't really need to charge his phone at all. Gab later confesses that he has fallen in love with Gabby. The two move in together and this is where their relationship encounters difficulties. Gabby feels smothered by Gab, and Gab discovers that Gabby doesn't even seem to believe in marriage. With these differences, they strive to find common ground. Or will it just be easier to let go?
ANG LARAWAN
Director: Loy Arcenas
Producer: Culturtain Musicat Productions
Cast: Rachel Alejandro, Joanna Ampil, Paulo Avelino, Nonie Buencamino, Celeste Legaspi, Zsa Zsa Padilla, Ogie Alcasid, Menchu Lauchengco-Yulo, Sandino Martin, Cris Villonco, and Aicelle Santos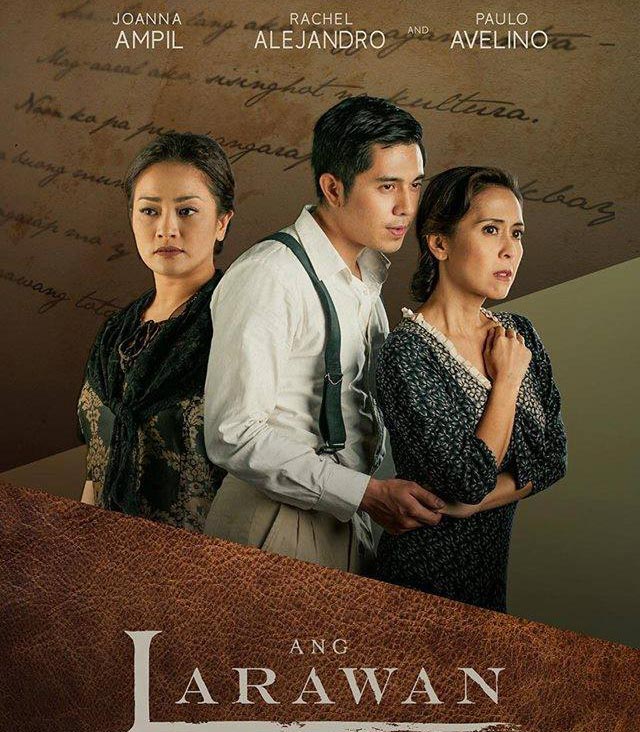 At the beginning of the trailer for Ang Larawan, the voices of two sisters are heard arguing that they no longer need each other. Set in Intramuros before the second World War, Ang Larawan tells the story of the two Marasigan sisters, Paula, played by Rachel Alejandro, and Candida, played by Joanna Ampil. They are in dire straits because their father, Don Lorenzo, a high profile artist, has not produced a single painting in a long time. One of Don Lorenzo's works, a self-portrait, gains the attention of many interested buyers, including Tony Javier, played by Paulo Avelino.
The sisters are being forced to sell the house to get them out of financial trouble, but at the same time, they are also told that the portrait is their only hope. A family friend, Don Perico, played by Robert Arevalo, says that the portrait was painted for the sisters, but if they care deeply for their father, the sisters ought to think of his welfare.
Paula and Candida take in Tony as a boarder. Paula and Tony share an intimate moment, and Candida is overcome with shame. An angered and battered Tony demands to know the whereabouts of the portrait.
ANG PANDAY
Director: Rodel Nacianceno
Producer: CCM Creative Productions, Inc.
Cast: Coco Martin, Jake Cuenca, Mariel De Leon, Kylie Verzosa, Jaime Fabregas, Eddie Garcia, Carmi Martin, Dennis Padilla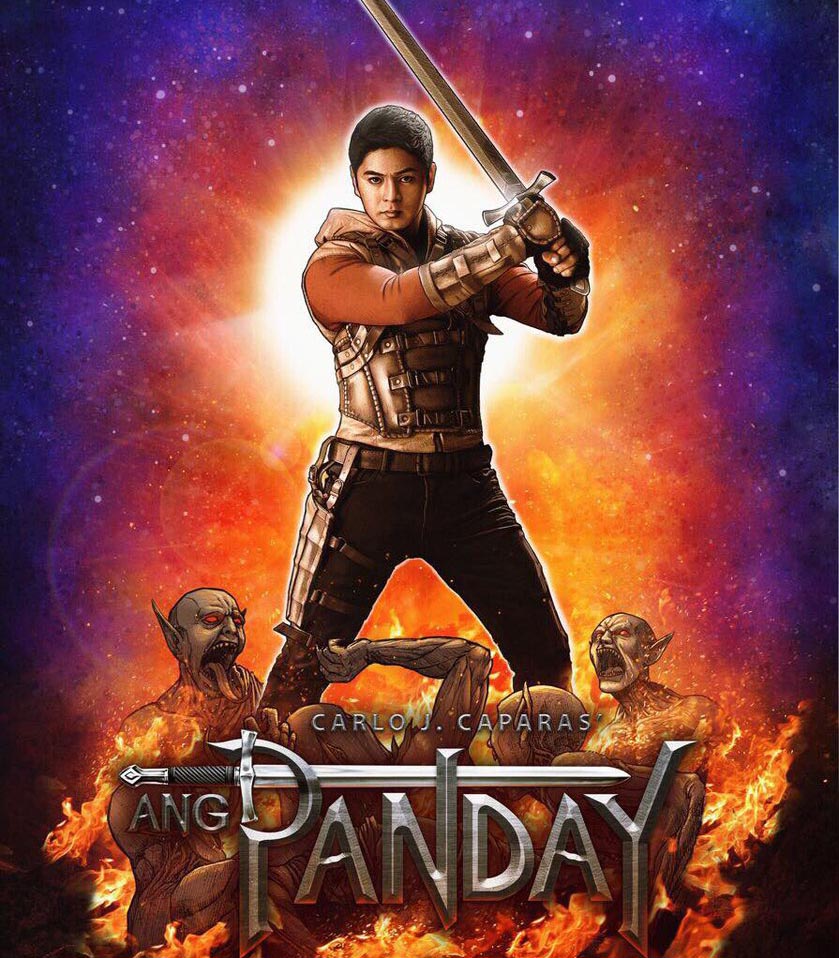 In Ang Panday, Flavio, played by Coco Martin, starts out as just an ordinary guy: he is family-oriented, gets into a little bit of trouble with the bad guys in his town, and is easily smitten by beautiful women. But a land dispute which leads to a demolition of settlers' homes in Tondo, including Flavio's, reveals his bigger purpose in life. As he fights for the rights of the people in his community, an old man appears and tells Flavio about his search for the rightful one to hold the balaraw (dagger). Flavio sets out to find the balaraw, and with the help of fairies and dwarfs in an enchanted forest, he eventually gets hold of it. After Flavio undergoes training, he goes back to Tondo to fight the evil Lizardo and his horde of supernatural beasts.
DEADMA WALKING
Director: Julius Alfonso
Producer: T-Rex Entertainment
Cast: Joross Gamboa, Edgar Allan Guzman, Dimples Romana, Candy Pangilinan, Bobby Andrews, Ricci Chan, Patricia Ismael, Nico Antonio, and Jojit Lorenzo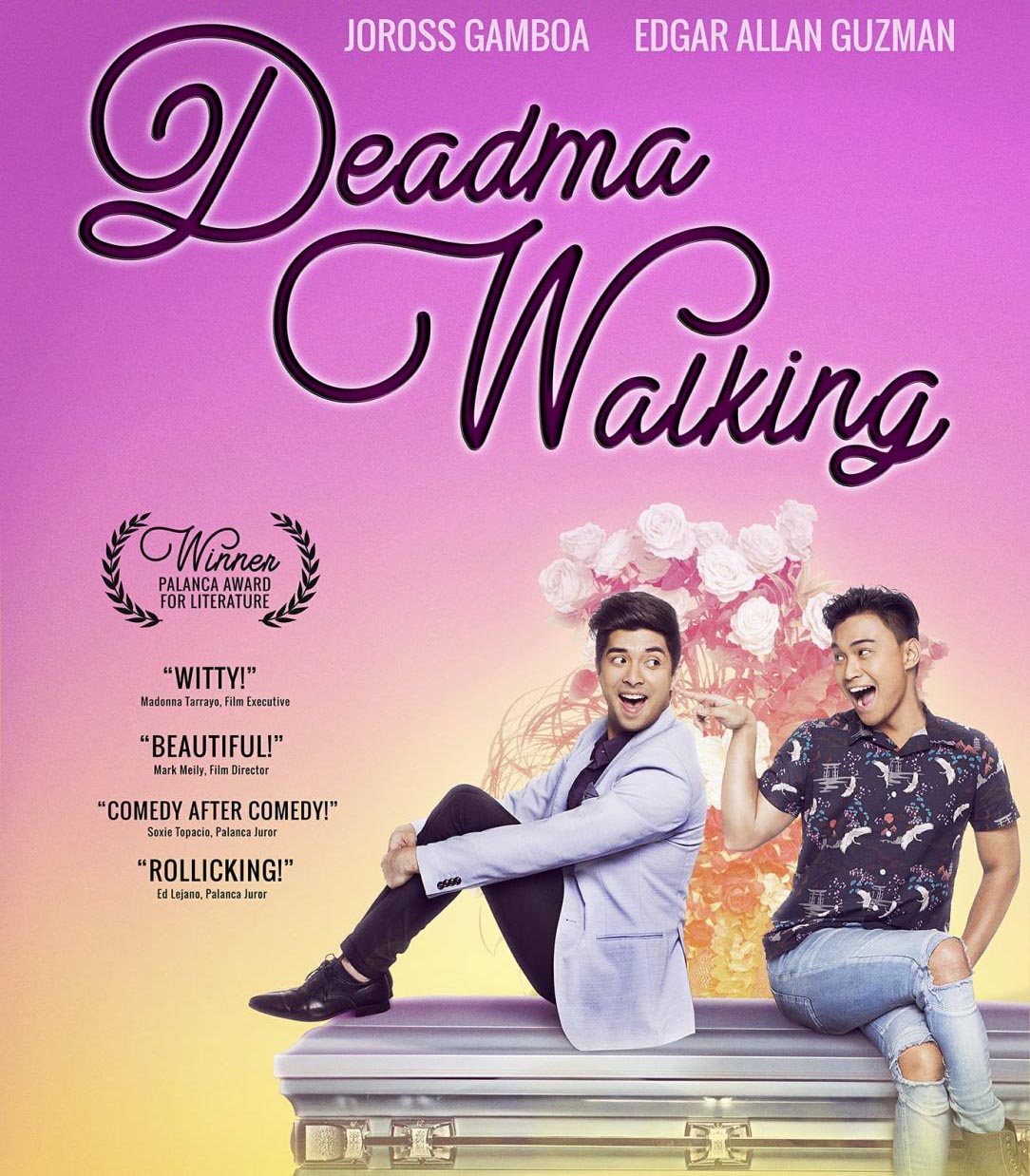 Deadma Walking features two gay besties played by Joross Gamboa and Edgar Allan Guzman. Joross is John, who reveals to his BFF Mark, played by Edgar, that he has cancer. The two then plan John's fake wake—"ang pinakabonggang lamay ng taon"—as well as a fake funeral. The two pose as women who visit the wake as well. At the grand wake, celebrities such as Piolo Pascual and Gerald Anderson deliver eulogies for John.
Deadma Walking won second prize in the Screenplay division of the 2016 Carlos Palanca Memorial Awards for Literature.