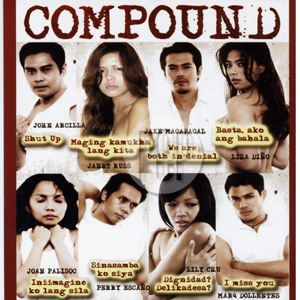 ---
Will Fredo's Compound successfully combines pressing issues facing society today (drugs, terrorism, bigamy, homosexuality, and greed) and mixes it into a dangerous condition called paranoia.
The compound where the characters live is supposedly a place where they can feel secure and protected but because of illegal drugs, the sheltered area suddenly becomes a prison that poses grave danger to the occupants. This indie film is wonderfully made with chemical compounds acting as chapters, eventually leading to the by-product of all those chemicals: crystal methamphetamine or shabu (in case you got tongue-tied).
The movie starts out by showing the sexual problems faced by Mr. and Mrs. Virgilio and Divina delos Reyes (John Arcilla and Janet Russ). Their marriage slowly starts to crumble when they are faced with problems such as taking care of their retarded daughter (Joan Palisoc), Divina's obsession with physical augmentation, John's secret battle with drug addiction and his sexual obsession with their attractive househelp Romina (Liza Diño). To top it all off, Virgilio is laid off from his job, paving the way for bankruptcy.
To keep their financial status in check, Virgilio decides to rent out one of the rooms in their family compound. In comes Jay Juanillo (Jake Macapagal), a bisexual searching for his true self by getting away from his ex-wife (Lily Chu) and male lover (Marq Dollentes). He gains the trust of the couple and starts living with the delos Reyes family inside the compound. Jay notices Big Boy (Perry Escaño), another househelp who "worships" Romina and dreams of returning to the province with her.
The storyline progresses with Virgilio's continuing drug abuse, making him paranoid and seeking to quench his lust with Romina. Virgilio now sees Jay as a threat to his family's safety. By now, the audience might think they know where the story is headed, but screenplay writer-director Will Fredo beautifully alters everything, leaving the audience confused with a shocking and questionable ending.
ADVERTISEMENT - CONTINUE READING BELOW
On the technical side, the cinematography of Compound is top of the line (considering that this is an indie film) although there are some scenes wherein the camera is too shaky, ruining the viewing experience. The music truly matches the mood and the pacing of the movie is attention-worthy.
The acting in the film is superb, but it becomes painfully obvious that enunciating in the English language posed as a problem for some of the actors, especially John Arcilla. Nonetheless, John and Jake lead the pack of relatively unknown but very talented actors and actresses.
Compound is one of the films that give the independent film industry the value and substance it truly deserves.
This indie film is currently being screened at the IndieSine, Robinsons Galleria until February 13 (Tuesday).
MTRCB rating is R-18 (approved without cuts).
Trailer courtesy of Will Fredo