My Fairy Tale Love Story should be commended for its story. The new romantic fantasy movie from Regal Films gets modern day fairy tales right—happy ever afters are not absolute, and love isn't always as magical as it is in the movies.

The film tells the story of Chantel (Janella Salvador), an annoying spoiled brat whose life changes when she turns into a mermaid. Thinking that she is in a Disney story, she sets her heart on finding a prince charming who can give her a kiss that will cure her fishy affliction.
But who is the right guy for her? Is it Noah (Elmo Magalona), her childhood friend who is always at her side to help her? Or will she pick Ethan (Kiko Estrada), a popular DJ who seems fated to be her dashing prince?
It seems like another usual love triangle on paper, so it is delightful to see the story break away from that mold. The movie feels fresh because director Perci Intalan avoids tired cliches and the story offers a twist to the typical fairy tale.

The relationships between the three lead stars develop logically; no one is forced to couple up just to achieve a happy ending.
And one more thing: it is a breath of fresh air to finally watch a romantic film that does not stuff its script with hugot lines in a ploy to be quotable and viral.
Janella Salvador shines in this movie. She's easy to root for, even when she was playing a brat at the start of the film. It was also a delight to hear her singing, because she has a good voice.
Elmo Magalona was just as good. He's funny and down-to-earth, and has a quiet charm that makes you want to like him immensely. Sadly, he does not seem to have onscreen chemistry with Janella, but maybe that's because he's playing a guy who is deep into the friendzone.
Lastly, Kiko Estrada, while competent, seems miscast. His role is this mega-famous DJ who magnetizes everyone around him. He should be this dashing prince that bewitches Chantel. But Kiko fails to meet this standard, and Elmo upstages him whenever they're in a scene together.
One setback of the film is that the stories of the other characters feel like an afterthought. Chantel's parents, for example, were fighting throughout the rest of the film. Then their conflict got resolved miraculously before the movie ended.
Despite these negative points, My Fairy Tale Love Story is still a good movie to watch this Valentine's season because the story is fresh and memorable. It may be worth to bring your date in cinemas just for this one.



Ed's Note: The "PEP Review" section carries the views of individual reviewers, and does not necessarily reflect the views of the PEP editorial staff.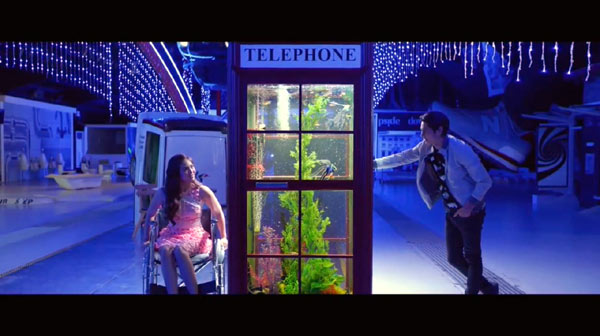 Janella Salvador and Kiko Estrada