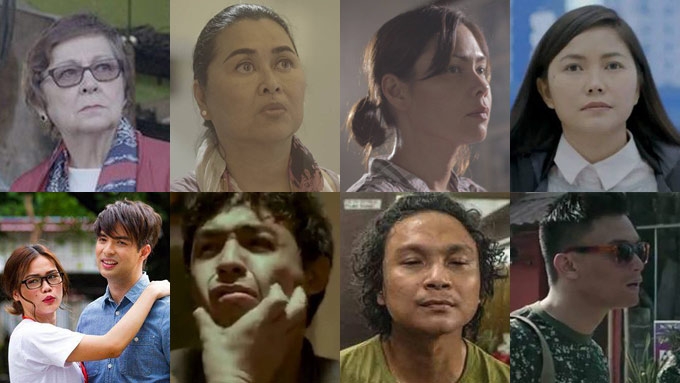 ---
In Cine Filipino 2018, viewers can look forward to movies from these genres: romantic comedy, family drama, horror, dark comedy, love story-drama, and even action-adventure.

The third edition of this film festival will be held from May 9-15 in select cinemas.
In the much-coveted Best Actress category of the festival, it is likely that the following female leads will compete with each other with their corresponding films:
Rosemarie Gil in Delia And Sammy
Elizabeth Oropesa in Excuse Me Po
Glydel Mercado in Poon
Yeng Constantino in The Eternity Between Seconds
Kate Alejandrino in Mga Mister Ni Rosario
Serving as festival director of Cine Filipino is Madonna Tarrayo (also president of Unitel Straight Shooters Production) while Joey Javier Reyes is the head of competition.
Here are the 8 official entries of Cine Filipino 2018:


DELIA AND SAMMY marks the screen comeback of legendary actress Ms. Rosemarie Gil who has not done a film in several years. She was last seen in the 2004 ABS-CBN TV series Hiram and the 2003 movie Pangarap Ko Ang Ibigin Ka.

In Delia And Sammy, Rosemarie is co-starring with veteran actor Jaime Fabregas.
Also in the cast are Nico Antonio, Dido de la Paz, Lui Manansala, Evan Tan, and Anthony Falcon, written and directed by Therese Cayaba.
The movie revolves around an ill-tempered aging actress as she tries to find family to leave her equally difficult husband with before she dies; a family that she's hurt, estranged, and antagonized. It's a story of finding acceptance, and forgiveness during their last days.
THE ETERNITY BETWEEN SECONDS stars Yeng Constantino and actor TJ Trinidad, written and directed by Alec Figuracion.
ADVERTISEMENT - CONTINUE READING BELOW
Five years after starring in Shift, Yeng returns to the big screen for a story about finding comfort in strangers and moments that are never meant to last. Isn't it when we get lost, that's when we truly find ourselves?
The Eternity Between Seconds captures the brittleness of brief moments, confined in the sphere of transience--two strangers forming a fleeting connection that will remain so.

Two strangers cross paths in Incheon Airport where together, they attempt to elude time. Andres (TJ) is a depressive best-selling Filipino self-help author and motivational speaker in his early forties while Sam (Yeng) is an anxious twenty-something Kopino (of Korean and Filipino descent), who is about to meet her father for the first time. While waiting for his flight back to the Philippines, Andres spends time with Sam and together, they bond over their loneliness, conversations and neuroses.
EXCUSE ME PO, top-billed by veteran actress Elizabeth Oropesa, is written and directed by Ronald Batallones.
In this world of fake news, how will you know the truth? With the blurb "to live is to deceive," this black comedy tells about the story of an old woman who begs for money as a swindler.
Produced by Tara Illenberger, Jedd Dumaguina, and TM Malones, it also stars Matt Daclan, Anna Luna, Angellie Nicholle Sanoy, Chanel la Torre, Sunshine Teodoro, Rener Concepcion, Shandii Bacolod, Dalin Sarmento, Emman dela Cruz, and Ricci Jereza, among others.
MGA MISTER NI ROSARIO is a romantic comedy starring Joross Gamboa and Kate Alejandrino, with Kim Molina, Dax Carnay, Rap Robes, and Kiki Baento.
ADVERTISEMENT - CONTINUE READING BELOW
The film's story concept is by Jan Dormyl Espinosa, written and directed by Allan Habon.

What will you do if your husband actor carries his different movie roles to your home? "Tungkol ito sa mag-asawang may sariling saltik, at kung sino sa kanila ang mas crazy in love," says the writer-director.
POON (The Image) is a horror film entry, starring Glydel Mercado and Shy Carlos. Written and directed by Roni Benaid, the film also stars Yayo Aguila, Mon Confiado, Rolando Inocencio, Chanel Latorre, Erlinda Villalobos, and Kriz Martinez.
This is a story of a loyal church servant and her daughter who experience disturbing things after bringing a mysterious image of a saint to their home.
HITBOY, directed by Bor Ocampo, will be the choice of lovers of the action-adventure genre. It features child star Adrian Cabido who won the FAMAS Best Child Actor award in 2014 for Lauriana by Mel Chionglo.
Also in the cast are Mon Confiado, Soliman Cruz, Rea Molina, Juan Miguel Emmanuel Salvado, and Rosanna Roces, with Paolo O'Hara, James Lomahan, Arrian Labios, Nichol Martinez, Isaac Aguirre, and Tarek El Tayech.
In the Philippines, even the young can be a hitman. At 15, Hitboy Alex (Adrian Cabido) is a full-time kid who plays a game of survival as part-time gun for hire.
GUSTO KITA WITH ALL MY HYPOTHALAMUS stars Nicco Manalo, Dylan Ray Talon, Soliman Cruz, and Anthony Falcon. It is produced by Bianca Balbuena and Giancarlo Abrahan, written and directed by Dwein Baltazar
Scientifically, they say that the heart doesn't recognize love or any other emotional activity but it is controlled by the "hypothalamus," a small part of the brain.
ADVERTISEMENT - CONTINUE READING BELOW
In the film, it's in Avenida, Rizal where the fate of the four men intertwine. Each of them are longing for something they cannot quite put their hands on; in the story that missing puzzle piece is a mysterious girl named Aileen.
MATA TAPANG (Brave) stars Edgar Allan Guzman and Aaron Villaflor, with Jerald Napoles, Ritz Azul, and Migs Almendras. It is written and directed by Rod Marmol, who's also an author and spoken word artist.
This "dramedy" (drama-comedy) film is inspired by the true story of the filmmaker's father who was a soldier.
Sergeant Hardrock (Edgar Allan Guzman) loses his left eye and his entire squad on a military mission, but gains a third eye to help his fallen brothers fulfill their life missions.