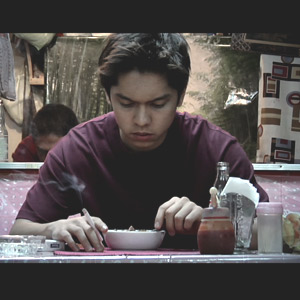 ---

Carnivore, the highly-anticipated socio-drama-thriller from acclaimed director/producer Ato Bautista, won two major awards in the 10th Cinemanila International Film Festival, Digital Lokal section. Direk Ato won as Best Director while the lead actor Carlo Aquino bagged the Best Actor plum. (Click here for the complete list of winners in Dekada Cinemanila)


The gala premiere took place last Sunday, October 19, at the Gateway Cineplex 1, Araneta Center, Cubao. It has been Rated R-18 by the Movie and Television Review and Classification Board due to violence and focus on details of blood and injury.

Known for his ingenious execution, powerful performances from his actors, distinctive narrative and visceral filmmaking, Direk Ato comes up with another strong and unapologetic obra in Carnivore.

The film reunites him with Carlo Aquino after their first collaboration in the neo-realist noir, Sa Aking Pagkakagising Mula sa Kamulatan (international title: Awaken). Carnivore is Direk Ato's third feature after the hypnotic psychological and original Filipino thriller, Blackout, starring Robin Padilla and Iza Calzado.

Carnivore follows the story of Lino Lucero, an idealistic, yet ignorant young man, from the province who went to the city, wanting to make a name for himself to become "somebody." An ambition he's bound to fulfill whatever it takes. But life in the city proves to be more vicious, cruel and horrifying than what he expected.

Unshaken, Lino enters an infamous fraternity that he thinks and believes can help him achieve his goal, and take him a step closer to his ambition. He becomes a neophyte of the Sigma Omicron Sigma where he undergoes initiation under the hands of fratlord Empoy Marquez.

As he strives to succeed in every initiation and trials that he encounters, Lino persists. But gradually, he succumbs to his ambition, until that climactic ending where he is faced with the greatest dilemma to survive in the compromising jungle of life, where he gets a taste of human flesh.
ADVERTISEMENT - CONTINUE READING BELOW

This opus is the filmmaker's personal commentary on idealism, corruption, ambition and survival summarized in the film's catchphrase: "Lured by the tempting lights of the city, drawn into the cruel jungle of survival... in a world where the Fierce devours the Nobody."

Carnivore is also produced by renowned filmmaker Erik Matti and screenwriter, Shugo Praico, Bautista's constant-collaborator. Cinematography is by Lyle Nemenzo Sacris. Original music is from virtuoso lead guitarist Tirso Ripoll, featuring soundtracks from his respected rock band, Razorback, plus songs from independent bands, Moyg and Sleepyheads. Cast includes Mark Gil, Bembol Roco, Baron Geisler, Ian De Leon, CJ Ramos, Cholo Barretto, Empoy Marquez, Michael Flores and Odette Khan.
Carnivore is presented by Reality Entertainment, Inc. in cooperation with Larger Than Life, Inc and National Commission for Culture and the Arts.

Carnivore is one of the Digital Lokal entries of Cinemanila 2008, which is ongoing at Gateway Mall in Cubao until October 29, 2008. This film is shot on High Definition (HD), in widescreen format at Gateway Cineplex's state-of-art Super Digital Cinema.

Regular tickets sold at P150 and P100 for students.