Who could ever forget the Thursday group of the 2007 film One More Chance?
The barkada was composed of characters portrayed by Dimples Romana, Bea Saw, James Blanco, Ahron Villena, Janus del Prado, and the movie's love team: Bea Alonzo and John Lloyd Cruz.
Today, June 7, Dimples took a trip down memory lane when she posted before and after group photos of the bunch, as seen in One More Chance and its 2015 sequel A Second Chance.
This is in line with the celebration of Star Cinema's 25th anniversary.
She wrote in the caption, "The most classic, ultimate barkada on film! Still my favorite!!! Agree? #StarCinema25 what's your fondest memory of our One More Chance and A Second Chance experience?"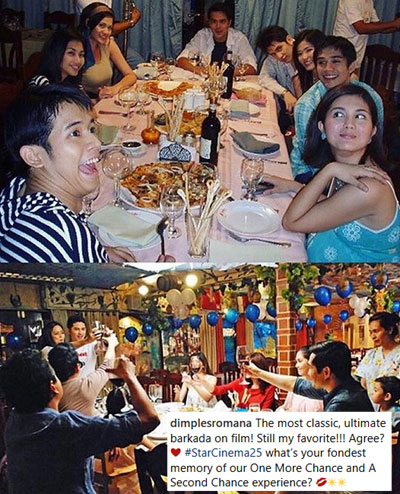 The Thursday group is vital to both movies, being eyewitnesses to the love story of Basha (Bea) and Popoy (John Lloyd).
Krizzy (Dimples) used to deal with Basha's emotions, while Anj (Bea) would always tell Basha to break up with the controlling Popoy.
Meanwhile, the funny guy Chinno (Janus), the soft-spoken JP (Ahron), and the blind but smart Kenneth (James) always served as Popoy's confidantes whenever he and Basha had an argument.