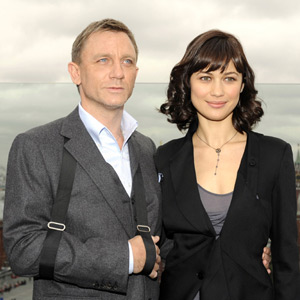 ---

Last October 29, Columbia Pictures' Quantum of Solacehad a royal premiere in London when Prince William and Prince Harry attendedthe star-studded affair. The latest James Bond adventure will now hold itsPhilippine gala/celebrity premiere on Monday, November 3, at The Podium,Ortigas Center.
Starring Daniel Craig as the legendary secret agent 007, Quantumof Solace is directed by Marc Foster and written by Neal Purvis &Robert Wade and Oscar® winner Paul Haggis (Crash). The film picks up the storyline just onehour after the end of Casino Royale, marking the first direct sequel inthe franchise.
Fueled by the betrayal of Vesper, the woman he loved in CasinoRoyale, Bond's determination to track down the mastermind behind Quantum,sinister organization leads to Haiti, where he finds an unlikely ally inCamille (Olga Kurylenko), a beautiful but feisty stranger. As Bond gets closer to finding the manresponsible for the betrayal of Vesper, 007 must keep one step ahead of the CIA,the terrorists and even M (Judi Dench).
Opening across the Philippines on November 5, Quantumof Solace is distributed in the Philippines by Columbia Pictures, localoffice of Sony Pictures International. The film opens in the U.S. on November 14.