Lea Salonga is set to co-star with fellow "Kim" Eva Noblezada in the musical drama movie Yellow Rose.
Both Broadway actresses portrayed the role of Kim in the musical Miss Saigon in different revivals and they were both recognized for their portrayals.
Lea won a Tony Award in 1991, while Eva received a Tony nomination in 2017.
Directed by Diane Paragas, the movie wrapped production last August in Austin, Texas.
Lea posted articles announcing their Hollywood movie on her Twitter account.
She wrote in one of her tweets, "This is actually happening! (To be totally honest, Eva does most, if not all of the heavy lifting. I'm just happy to be a small part of this effort!)"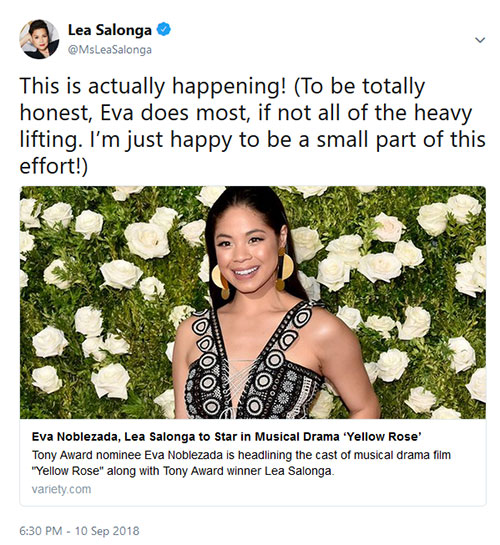 According to playbill.com, Yellow Rose has been in development for 15 years.
The movie revolves around Eva's character Rose, a 17-year-old Filipino-American teenager from Texas who dreams of becoming a country music icon.
However, problems arise when her mother is arrested by immigration. She faces the dilemma of choosing between following her dreams or facing deportation to the Philippines.
Lea is cast as Rose's aunt.
Aside from Lea and Eva, actress Princess Punzalan, who is now based in the U.S., is also part of the Hollywood film.
Other cast members include Dale Watson, Liam Booth, Gustavo Gomez, and Libby Villari.
Paragas is producing the film with Cecilia Mejia, Orian Williams, Rey Cuerdo, and Jeremiah Abraham.
Yellow Rose is also supported by New York-based media organization Asian CineVision and Cinematografo International Film Festival, a film festival product of ABS-CBN International.
According to its website, the Cinematografo International Film Festival is a "premier event for Filipinos abroad to tell their stories and the platform to bring these films to the world stage."
Earlier this year, it was also awarded the Ravenal Foundation Feature Film by the New York Women in Film and Television.