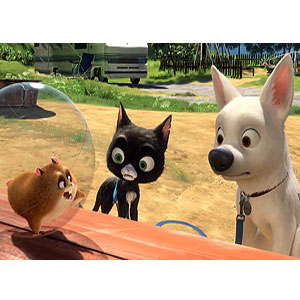 ---

Walt Disney Pictures' Bolt is one lucky dog. He could never have imagined what his life would be like when he was adopted as a puppy...now, a typical day includes adventure, danger and intrigue for him and his owner, Penny. That's because Bolt is the star of his own action-adventure television show, where he plays a genetically enhanced dog charged with protecting Penny from falling into the clutches of the villainous Green-Eyed Man, Dr. Calico, and his legions of evil cats. But there's one little hitch—Bolt doesn't know that he's on a television show. He actually believes that he really has super dog powers, like incredible strength and speed, laser vision and the obstacle-flattening superbark!


So, when he's accidentally shipped from his Hollywood soundstage to New York City, he does what any superhero would do—he kidnaps a New York alley cat named Mittens (since all cats are in league with Dr. Calico), and convinces her to lead him to the Green-Eyed Man, so he can free his beloved owner Penny once and for all. On their way cross-country, the devoted dog and confused cat meet up with a TV—obsessed hamster in a ball named Rhino, who happens to be the number one fan of Bolt's television show. Now, living out his own ultimate dream, Rhino joins in to help his hero Bolt on the dog's most important mission ever. The trio have several adventures of their own before arriving in Hollywood, where Bolt ultimately discovers that he doesn't really need superpowers to be a real hero.


Raised from a puppy by Penny, Bolt is truly a girl's best friend—and he adores his owner. Having never left the soundstage where his television series is filmed, the only reality Bolt knows is the one that the show has created.

Bolt is always vigilant, ever on the lookout for the nefarious Dr. Calico and his evil minion of cats, and constantly aware of his life's work—to protect his owner, Penny. Nothing changes in Bolt's mind when he accidentally arrives on the very real streets of New York City. He takes a cat named Mittens prisoner thinking she is one of Dr. Calico's minions, and convinces her to lead him to where the Green-Eyed Man has taken Penny.


Mittens is a street-smart survivor who trusts no one and has never had a friend in her life. She runs a racket with a group of pigeons—they give her food and she gives them protection.


She has a pessimistic outlook and a sarcastic sense of humor, which doesn't exactly go along with Bolt's superhero take on life. Once Rhino joins the party, Mittens is determined to get these delusional characters to Hollywood as quickly as possible, so she can return to her own life.


Finally, living in his trusty plastic hamster ball, Rhino can always be found in front of the television. Rhino is a diehard super fan of Bolt's television show, and knows every detail of his hero's adventures by heart. In fact, the little hamster is blown away when his idol, Bolt, arrives out of nowhere on the doorstep of his home. Given what he knows is the chance of a lifetime, Rhino rises to the call of duty and pledges to be a valuable addition to Bolt's team.


Opening soon across the Philippines, Bolt is distributed by Walt Disney Studios Motion Pictures International.
ADVERTISEMENT - CONTINUE READING BELOW