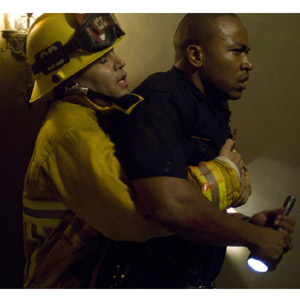 ---

On March 11, 2008, with no explanation, American authorities sealed off an apartment complex in Los Angeles. The residents were never seen again. No details. No witnesses. No evidence. Until now...

Columbia Pictures presents the new terrifying suspense-thriller, Quarantine, starring a powerhouse cast led by Jennifer Carpenter (The Exorcism of Emily Rose), Jay Hernandez (Hostel) and Johnathon Schaech (Prom Night).

In the film, TV reporter Angela Vidal (Carpenter) and her cameraman (Steve Harris) are assigned to spend the night shift with a Los Angeles Fire Station. After a routine 911 call takes them to a small apartment building, they find police officers already on the scene in response to blood curdling screams coming from one of the apartment units. They soon learn that a woman living in the building has been infected by something unknown. After a few of the residents are viciously attacked, they try to escape with the news crew in tow, only to find that the building has been quarantined. Phones, internet, televisions and cell phone access have been cut-off, and officials are not relaying information to those locked inside.

When asked what they'd tell an audience member to expect in Quarantine, director John Erick Dowdle and screenwriter Drew Dowdle agree: "It's relentless. You'd have to expect this film to break your mind."

The Dowdles wanted to ground the premise with realism--which makes it all the more frightening. Says producer Sergio Agüero, "The filmmakers play up the paranoia caused by the fact that the government, who we expect to come to our rescue, is the silent enemy here, keeping us in the dark and not telling us why."

"We were very careful to make sure there's nothing that happens in this movie that isn't in the realm of possibility," John Dowdle adds. "The 'rooted-in-reality' nature of the film differentiates it from many horror films."

Because the central premise of the film dictates "found" footage from a single video camera used to record the action in the apartment building, the film takes place almost entirely in real time. Scenes meander in and out of apartments and up and down the central staircase, and they can last several minutes before the screen goes to black or whip-pans into the next scene. Transitions from scene to scene are largely made with hidden cuts.

"We're seeing it all through the point of view of the camera," says director Dowdle. "There's something terrifying in a film when you can't see around the door, you can't see what's on the other side of the wall. When you're confined to only what one camera can see, you feel like you're in a real space."

"We loved toying with imperfect lighting and imperfect framing," adds Drew, "not seeing everything you want to see and not hearing everything you want to hear. That imperfect nature makes it feel very real. And in today's YouTube culture, everyone's used to seeing everything recorded. Seeing everything from a one-camera perspective makes a lot of sense to audiences."

Opening soon across the Philippines, Quarantine is distributed by Columbia Pictures, local office of Sony Pictures Releasing International.

ADVERTISEMENT - CONTINUE READING BELOW