John "Sweet" Lapus feels blessed to be part of the Cinema One Originals 2018.
The actor-turned-director was not originally part of the lineup of the 14th edition of the Cinema One Originals Film Festival.

"I Am Original" is the tagline of the 14th Cinema One Originals running from October 12-21, 2018.
During the press conference for the film fest, John Lapus pointed out, "Buti na lang nakapag-aral na ko ng directing kay Carlos Siguion-Reyna [sa Cinemalaya Foundation sa Cultural Center of the Philippines].
"Nung June natapos ako mag-aral tapos July tinawagan na ako [ng Cinema One]."
Palibhasa Babae by Iris Charmaine Lee was supposed to be one of the nine official entries of Cinema One Originals 2018. However, the filmmaker backed out and allowed John's entry Pang MMK to become a finalist.
When PEP.ph (Philippine Entertainment Portal) asked Cinema One Channel Head Ronald Arguelles why Palibhasa Babae was pulled out, he explained: "Hindi siya prepared kasi kaya next year, baka isali ulit. Ambitious yung project, masyadong maraming characters kaya overwhelmed pa siya. First time director pa siya kaya na-overwhelm siya."
How did they choose John's Pang MMK to join Cinema One Originals 2018?
"Nag-vote ulit kami sa mga runners up then yung kay John yung napili kasi madaling gawin yung project niya.
"Galing ito sa MMK [Maalaala Mo Kaya] episode 20 years ago titled 'Origami.' It's about the incident na namatay yung tatay niya at dun lang niya nakilala ang tatay niya. Na mayroon palang ibang family."

Here are the 9 official entries of Cinema One Originals 2018:
Paglisan by Carl Papa
Bagyong Bheverlyn by Charliebebs Gohetia
Hospicio by Bobby Bonifacio
A Short History of a Few Bad Things by Keith Deligero
Double Twisting Double Back by Joseph Abello
Never Tear Us Apart by Whammy Alcazaren
Mamu; And a Mother Too by Rod Singh
Asuang by Raynier Brizuela
Pang MMK by John "Sweet" Lapus

The ten-day film fest is ongoing in cinemas including Trinoma, Gateway, Glorietta 4, Rockwell, Santolan Town Plaza, SM Megamall, SM North Edsa, SM Manila, and SM Sta Mesa.

The entries will also be shown at micro cinemas such as Cinema 76 (both in San Juan and Anonas), Cinema Centenario (Quezon City), Black Maria Cinema (Mandaluyong), and Cine Adarna in UP Diliman.


The nine full-length films in competition all received a film grant of P3 million each.

Two Pinoy classic films will also premiere its digitally restored and remastered versions: Superstar Nora Aunor's Minsa'y Isang Gamu-Gamo (1976) directed by Lupita Concio (now Lupita Kashiwahara) and Comedy King Dolphy's Omeng Satanasia (1977) directed by Frank Gray, Jr., which allowed the late comedian to win his first FAMAS Best Actor award.

Various international films will also premiere in the festival, aside from having other categories like the short films and documentary films.

Here are the 9 full-length films competing in Cinema One Originals 2018 (in alphabetical order based on title):

ASUANG (comedy-fantasy)
Directed by Raynier Brizuela
Written by Carl Papa and Raynier Brizuela

CAST – Alwyn Uytingco, Chai Fonacier, Jon Lucas, Natileigh Sitoy

SYNOPSIS:

Asuang, the God of Sins, was once a ruthless and fickle God of Bicol, but now he is a loner and a loser who has no place in the world that is overrun by sinful human beings. He resorted to social media to regain his former glory and fame but to no avail. On his track to retirement, he was approached by the Seers to help them stop Armageddon. Along with a group of sinful misfits, Asuang will go on a quest, against his nature, to help mankind... Or so he think he will.



A SHORT HISTORY OF A FEW BAD THINGS (cop comedy)
Directed by Keith Deligero
Written by Paul Grant

CAST – Victor Neri, Jay Gonzaga, Publio Briones III

SYNOPSIS:

In the southern Philippine city of Cebu a troubled detective struggles to solve a series of grisly killings, while a deep conspiracy works to keep the truth just out of his reach.



BAGYONG BHEVERLYNN (comedy)
Directed by Charliebebs Gohetia
Written by Jericho Aguado

CAST – Rufa Mae Quinto and Edgar Allan Guzman with Angelina Kanapi

SYNOPSIS:

After four years of being together, Bheverlynn (Rufa Mae Quinto) and her boyfriend (Edgar Allan Guzman) break up. The heartbroken woman hears that a super typhoon with the same name is fast approaching and realizes it's a typhoon made of her own feelings and the only way to stop it from wreaking havoc on the country is to find happiness.



DOUBLE TWISTING DOUBLE BACK (erotic sports drama)
Written and directed by Joseph Abello

CAST – Tony Labrusca and Joem Bascon, introducing Ella Mae McCoy; with Acey Aguilar, Mon Confiado, Elora Españo, Sunshine Teodoro, Jay Castillo, Dalin Sarmiento, and Suzette Ranillo

SYNOPSIS:

A year ago, Badger (Tony Labrusca) is one of the best gymnasts in the Philippines. He wants to be the very best, until his reckless best friend (Joem Bascon) sabotaged his athletic career. Now, Badger is miserably working as a distributor, selling alcoholic beverages to the managers of bars and supermarkets. To his delight, Badger receives a new opportunity to pursue his quest to be the best Filipino gymnast. He immediately resigns from his job. His reckless best friend, who fulfills his desires through this job, gets pissed and vows to stop Badger's dreams once again.
The film Double Twisting Double Back tackles mental health. It depicts the lives of gymnasts, particularly Badger (Tony Labrusca) who dreams of competing abroad and representing the Philippines.
Joem Bascon, who is cast as his childhood best friend, said about his character: "Para kaming bipolar na magkaiba ang personality.
"Mas gusto ko yung i-enjoy ang buhay. Gusto ko simpleng buhay lang."
He observed that Tony himself did the stunts in the movie. "Most of the flips, sila talaga yun. Nagulat ako na kaya niya talagang mag-tumbling, sobrang perfect niya for the part."


NEVER TEAR US APART (family drama)
Written and directed by Whammy Alcazaren

CAST – Ricky Davao, Meryll Soriano, and Jasmine Curtis-Smith, with Albee Saspa, Gay Manila, Pau Benitez

Q is an aging spy in search of a monster known as The Shadow—a rumored darkness fabricated by the media as a murderer with a grudge against promiscuous women. His wife, Meryl, is taunted by a haunted closet and low television signal range in their mountain top mansion. Alex, their son, at the verge of maturity experimenting both sexually and emotionally.
Things head south for the family when The Shadow impregnates Meryl and Q must find a cure in time for Alex's college graduation at week's end. The game then finally begins.


Meryll Soriano, who plays the wife of Ricky Davao's character, admitted, "The whole film is difficult because we shot in 3 iPhone Xs. That is our medium. The format is vertical. It's a different orientation for viewers."



HOSPICIO (horror)
Directed by Bobby Bonifacio
Written by Bobby Bonifacio and Juvy Galamiton

CAST – Loisa Andalio, Mary Joy Apostol, Ana Abad Santos, MM Gigante

SYNOPSIS:

After surviving what seems to be a drug-related incident that left her sister, LIAN, in a coma, LESLIE, a budding 20-something artist, is left in deep grief. With great guilt, Leslie is forced by her parents to go to a rehabilitation facility to recover from her drug dependency. As Leslie stays longer, she gets to uncover even more mysteries and secrets. She would later realize that the promised change is actually more sinister than it seems, and she has to do something before it's too late.


Ana Abad Santos was deeply affected when she portrayed a character running a mysterious hospice.

She narrated, "May scene na nag force feeding ako. Marami akong fino-force feed sa Hospicio. Talagang for weeks, aaamoy ko pa yung food sa hands ko.
"After every shoot, nagpapagpag ako kasi I felt vulnerable to bad things."


MAMU; AND A MOTHER TOO (comedy drama)
Written and directed by Rod Singh

CAST – Iyah Mina, EJ Jallorina, Jovani Manansala, Markus Paterson, and Arron Villaflor

SYNOPSIS:

A transgender sex worker in her late 40s along Fields Avenue whose only aspiration is to have breast implants for her profession unexpectedly assumes the role of a mother to her orphaned niece, a transgender youth who is only beginning to discover her own sexuality. As she works more shifts to save for her implants, troubles arise when she begins to feel the weight of her struggles -- being an aging sex worker in fast-evolving society, a partner to her young fiancé, and a parent to a teenager she just met.


Arron Villaflor admitted that he shot a sensitive scene in Mamu; And a Mother Too.

He said about his character, "I'm playing Vincent, the boyfriend of Mamu. I'm a straight guy. I'm the only one straight in the story. It's a comedy-drama movie.
"First time ko mag-portray ng jowa ng transgender. I never felt abused during our shoot.
"Coz I thought in the first place, I was surrounded by gays and transgender people, akala ko maa-abuse ako pero it's not. Trinato nila ko ng maayos kaya mahal na mahal ko sila."
"Yung bathroom scene yung pinakamahirap na gawin!"
Did he shoot a butt exposure scene for Mamu; And a Mother Too? "Oo, meron, e!" Arron confirmed.
How was he convinced to do a butt exposure scene? "Napapayag nila ko kasi maganda yung kwento. That convinced me to say yes."


PAGLISAN (THE LEAVING) (animated musical dramedy)
Directed by Carl Papa
Written by Carl Papa and Aica Ganhinhin

CAST – (featuring the voices of) Ian Veneracion, Eula Valdes, Khalil Ramos, Junjun Quintana

SYNOPSIS:

Crisanto (Ian Veneracion) and Dolores' (Eula Valdes) marriage is going through a rough patch. Going through marital crisis, a couple's marriage is tested when Crisanto is diagnosed with early onset Alzheimer's disease as Dolores sinks deeper into depression.

Paglisan tells the story of how a married couple attempt to survive together through fading memories and fleeting identities.



PANG MMK (family comedy drama)
Written and directed by John Lapus

CAST – Neil Coleta, Nikki Valdez, Zeppi Borromeo with Joel Torre, Ricky Davao, and Cherry Pie Picache, with the special participation of Ms. Charo Santos, Agot Isidro, and Jojit Lorenzo

SYNOPSIS:

Being the legitimate son, Janus (Neil Coleta) was given the stressful responsibility to take care of his father's funeral. With the presence of a senator, constant phone calls from his mother (who was in the United States), and the conflict between his scandalous sister and his father's mistress; the funeral became dramatic, chaotic, and hilarious.

Pang MMK is about one's strength of character, overcoming adversities, and facing them head strong.
Neil Coleta admitted that doing this movie is "very difficult" because of the bed scene and his kissing scene with another guy.
Sweet disclosed, "At least kaibigan naman niya, siya naman pinapili ko. Sabi ko kaninong actor ka comfortable? Sabi niya si Anjo Damiles.
"Naloka sila kasi first day of shooting, sabi ko, gawin na natin 'to."
Neil recalled asking for a favor that day: "Sabi ko, 'Direk, pwede bang mag-request kami ni Anjo ng isang bote ng beer para medyo may lakas kami ng loob."
Sweet answered back then: "Sabi ko umaga, hindi pwede. Nagawa naman nila. Pag dalawang lalaki na papagawin mo ng bed scene na hindi naman bakla sa tunay na buhay, gawin niyo na ng isang beses, itodo na para hindi na kayo paulit-ulit."

When PEP.ph interviewed Neil, he disclosed that he actually two other guys to be his love interest in the movie.
"Tatlo yung tinawagan ko. Si Anjo yung last kong tinawagan.
"Sabi niya, 't*r*nt*do ka, magkaibigan tayo, ayoko niyan.'"

Anjo eventually agreed to do the kissing scene and bed scene with Neil Coleta.
After doing their intimate scenes together, Neil quipped, "Minsan, naglolokohan kami, 'halika, kiss tayo.' Wala na. Tropa talaga. Mag best friend."
Neil and Anjo have been close friends friends for the past four years.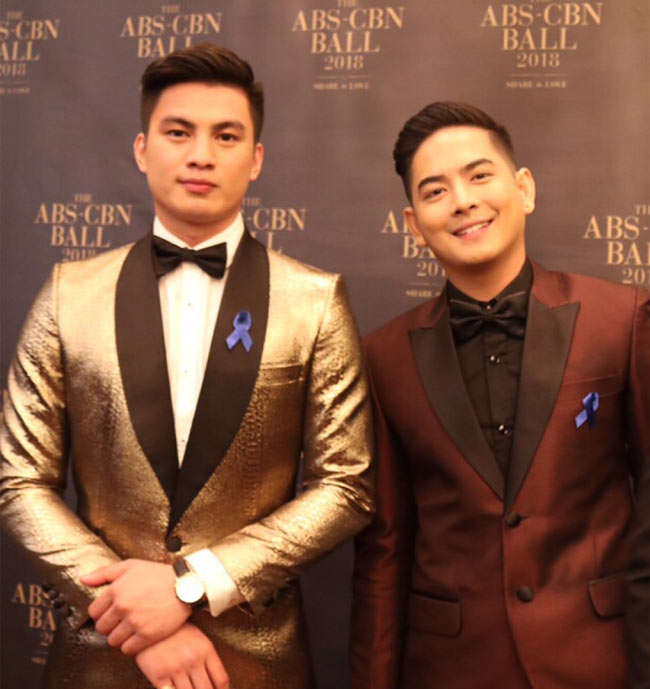 Anjo Damiles (left) and Neil Coleta


You can download the Cinema One Originals 2018 schedules here: http://bit.ly/c1origsschedule