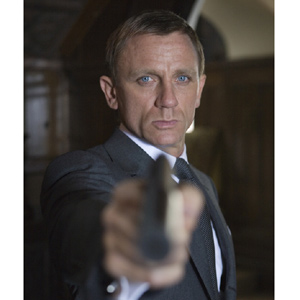 ---

James Bond made a quantum leap in the Philippine box office asthe latest 007 adventure Quantum of Solace opened at No. 1 nationwide.The film had a staggering five-day opening weekend gross of P53.1 million in255 screens from November 5 to 9. Thiswas announced yesterday, November 10, by Victor Cabrera, managing director ofColumbia Pictures which distributed the film.

Quantum's opening surpassed the debut of 2006's CasinoRoyale, the first Bond film to star Daniel Craig by a menacing 58percent. It also smashed the record ofJuly's Hancock as the year's best opening for a Columbia Pictures title.
In an unprecedented rollout, the new Bond action-thrillerarrived in the Philippines a full nine days prior to its November 14 debut inthe U.S. Local moviegoers tookadvantage of this rare opportunity, filling theaters to capacity crowds.
The Top 20 cinemas that posted the biggest receipts areTrinoma (P3.18 million), SM Mall of Asia (P2.54 million), Power Plant (P2.17million), Greenbelt III (P2.12 million), SM Megamall (P2.11 million), SM NorthEDSA (P2.10 million), Glorietta 4 (P1.77 million), Gateway (P1.67 million),Alabang Town Center (PP1.61 million) and Shangri-la (P1.597 million).
Rounding up the list are Greenhills (P1.44 million,Robinson's Galleria (P1.41 million), SM Cebu (P1.36 million), Robinson's Ermita(P1.34 million), Ayala Cebu (P1.33 million), Eastwood (P1.14 million), FestivalMall (P1.05 million), SM Manila (P799,931), SM Clark (P721,018) and SM Davao(P718,002).

Starring Daniel Craig as the legendary secret agent, JamesBond, Quantum of Solace is directed by Marc Foster and also stars JudiDench and Olga Kurylenko. The filmpicks up the storyline just one hour after the end of Casino Royale,making it the first direct sequel in the franchise.
Fueled by the betrayal of Vesper, the woman he loved (in CasinoRoyale), Bond's determination to track down the mastermind behind Quantum,sinister organization leads to Haiti, where he finds an unlikely ally inCamille (Kurylenko), a beautiful but feisty stranger. As Bond gets closer to finding the man responsible for the betrayalof Vesper, 007 must keep one step ahead of the CIA, the terrorists and even M(Dench).
ADVERTISEMENT - CONTINUE READING BELOW
Still playing across the Philippines, Quantum of Solaceis distributed by Columbia Pictures, local office of Sony PicturesInternational.