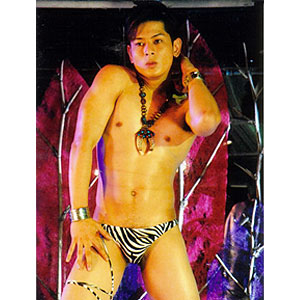 ---

Walang Kawala literally means "no way out" but it mayas well be "no way in," judging from the jampacked premiere at the UP CineAdarna last November 6.
For weeks, blogs and media releases had been buildinghype about the onscreen gay romance between Polo Ravales and Joseph Bitangcol.Movie stills and trailers showed steamy shots of the lead actors in passionatekisses and intimate love scenes.


While Polo Ravales is no stranger to gayroles, his role in Walang Kawala goes beyond the comfort zone andpromises proof that he is an actor in every right. Joseph Bitangcol, on theother hand, sheds his teeny-bopper image and immerses himself inthe most challenging role of his life. And with Joel Lamangan as the director, WalangKawala is a movie with great expectations. Does the film live up to all thepublicity?
WalangKawala isset in a quiet provincial village where Joaquin (Polo Ravales) makes a livingas a fisherman. Waldo (Joseph Bitangcol) is his neighbor and they both find themselvesfalling in love despite the fact that Joaquin is married.


Against the backdrop of a quiet lake with gray sandy shores, this love storyunfolds with conflicts and obstacles. Waldo is repulsed by Joaquin'sunwillingness to take their relationship further and decides to go to Manila.The departure of his lover forces Joaquin to confront the truth about hisfeelings for Waldo and he finally resolves to search for him.


In Manila,Joaquin traces Waldo's path through the underground world of gay bars and findshim a prisoner of Rufo (Emilio Garcia), a vicious policeman who indulges hiscaptives in various sexual abuses and sells them into slavery. Joaquin himself isalso kept as a captive and once he is reunited with Waldo, Rufo's submissivewife, Beng (Jean Garcia) helps them to escape.
STELLAR ACTING. The powerhouse cast providesstellar performances under the direction of Joel Lamangan. I like Polo'sportrayal of Joaquin. He successfully plays a gentle provincial boysuddenly forced to handle the harsh and horrible urban realities of Manila.Polo should also be commended for being able to play a difficult role thatinvolves a lot of homosexual scenes. For a straight actor, this is no easyfeat. He delivers all the scenes convincingly and even quite passionately.
ADVERTISEMENT - CONTINUE READING BELOW

Another great performance belongs to EmilioGarcia. Emilio is very much at home with sadist and villainous roles and thecharacter of Rufo would not have come alive if not for him. Rufo scaredme but he also made me laugh. His surprising sarcasm and jokes were a welcomebreather that lightened up the film's heavy material.
Walang Kawala incorporates a full frontal shot ofactor Marco Morales during a scene in a gay bar. All the buzz prior to the filmabout this nude shot was well-warranted and I daresay that viewers will not be disappointed. They must note, however, that the U.P. screening mayhave shown the uncut version so the regular screening in cinemas mightfeature a tamer version.
SCRIPT AND DIRECTION. I felt that Joseph Bitangcol'sperformance could be further improved. Don't get me wrong. I commend him for agood performance given the film's difficult material and that it was his first(if not, most important) leading role. I just felt that Joseph's lines wereover delivered. Did he have to sound angry all the time? His dialogue wasmostly delivered through shouts. Maybe the director could have tempered this alittle bit and helped Joseph show his character's emotions through othermethods.

I also thought that Jean Garcia, who portrays Rufo's simple wife, was misplaced in the film. It seems a waste of her talent to cast her in such a simplistic role. WasJean was included in the film just for added star value? The scriptwriter is commendable, however, for the surprise twist done by Jean Garcia's characternear the end of the film.

As for the technicalities of the film, I found the beginningof the movie too rushed and abrupt. It looked like the scenes of Polo andJoseph in the province were done cut-to-cut without any finesse or flow. Choicescenes with longer sequences could have been done instead. The beginning of thefilm is also a stark opposite to the middle of the film set mostly in Manila.The pace of the movie becomes dragging with many unnecessary scenes.
ADVERTISEMENT - CONTINUE READING BELOW

I could not help but cringe upon hearing some of the lines in themovie. I felt that Joaquin and Waldo's exchange of I-love-you's in the film wastoo corny and unrealistic. Did we need to hear it all verbalized? Could it havebeen said in a different way? The scriptwriter should have exploredother ways to communicate the feelings of the two main characters.
And lastly,does every gay film have to end in tragedy? The ending of the film was quitepredictable. It would have been nice to see a different outcome for a change.

BUT WORTH THE HYPE. All in all, Walang Kawala is a movie that is wellworth the price of admission since you will get to see great cast membersperforming material shunned by most mainstream actors today. For itscommendable performances, Walang Kawala lives up to all the hype.


WalangKawala opens this Wednesday, November 12,in thefollowing theaters: Robinsons Galleria, Robinsons Ermita, Gateway Mall,Cinerama Isetann, and New Cinema Theater (Cebu City).