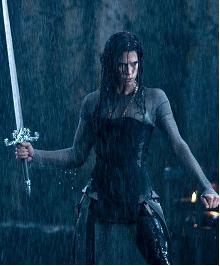 ---

From Len Wiseman, creator of the blockbuster film series Underworld and Underworld: Evolution comes a third film that explores the originsof the ancient blood feud, in Columbia Pictures' fantasy thriller Underworld: Rise of the Lycans.


For untold centuries, a secretconflict has been waged between two immortal rivals: vampires and werewolves.

The vampires are ageless aristocrats with a sensual appetite for blood andluxury. Among their ranks are the Death Dealers, an elite corps of the undeadsworn to the destruction of their ancestral enemies.

On the other side of the rivalry are the werewolves or lycans--feral warriorscapable of transforming into hellish beasts of unearthly power andferocity. Once the faithful servants of the vampires, the savage lycansnow fight tooth and claw against their former masters.

In the film, a young Lycan, Lucian (MichaelSheen), emerges as a powerful leader who rallies the werewolves to riseup against Viktor (Bill Nighy),the cruel vampire king who has persecuted them for hundreds of years. Lucian isjoined by his secret lover, the beautiful vampire Sonja (Rhona Mitra), in his battle to freethe Lycans from their brutal enslavement.

Opening soon across the Philippines, Underworld:Rise of the Lycans is distributed by Columbia Pictures, local office ofSony Pictures Releasing International.