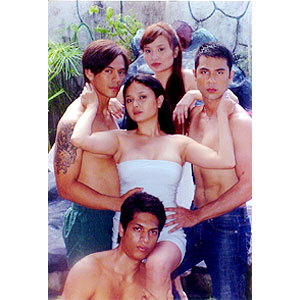 ---

Lalamunan, Leo Films' latest addition to its roster of sexy flicks, will open on November 19 in selected theaters nationwide.

Written and directed by Jigz Recto, Lalamunan features boxing champion Jordan Herrera in his boldest role. Viewers will get to see a different side of the Pinoy Mano-Mano winner when he engages in homosexual acts and appears in a very sexy shower scene.

Binyag star Ran Domingo, who is cast as the mysterious driver-lover, has nudity in front of a mirror. Also in the cast is hunk Rico Barrera, who has a love scene with Viva Hot Babes Maricar dela Fuente. Hazel Cabrera sings lonely tunes to her appreciative crowd but at home, she is a battered wife to her neurotic husband.

Maricar reveals her bosom as she caresses herself while Hazel bares all. Rico flaunts his body in skimpy briefs in many scenes.

The director of the film says: "My film is relevant to our present times. Although packaged as a sex film, Lalamunan delvesdeeper into the issues of marital rape, domestic violence, andrepression. All the sex scenes in my film are integral to the story andwere done in good taste." Direk Jigz also happens to be a theater actorand scriptwriter.

Lalamunan is produced by Cesar Aquino with executive producer Shaleena Dy.

Produced by: Leo Films
Executive Producer: Shaleena Dy
Producer: Cesar Aquino
Supervising Producer: Dennis Evangelista
Production Manager: Melon "Byuti" Antonio
Written and Directed by Jigz Recto

CAST:

Jordan Herrera (grand winner of ABS-CBN's Pinoy Mano-Mano, a boxing reality show)
Rico Barrera (Pinoy Big Brother Season 1 housemate)
Maricar dela Fuente (Viva Hotbabe)
Ran Domingo (lead actor of Binyag)
And Hazel Cabrera (original Viva Hotbabe)


SYNOPSIS. When singer Darla (Hazel Cabrera) temporarily loses her voice to laryngitis, she seeks medical help from throat specialist Andrei (Rico Barrera) who understands that there is something more beyond her physical ailment. Eventually,Darla reveals her real pain--she is Devon's (Jordan Herrera) battered trophy wife.

What starts as a patient-doctor relationship sparks into a passionate but dangerous liaison. Devon issues death threats against the doctor while Andre's wealthy and obsessed girlfriend Kathleen (Maricar dela Fuente) also becomes wary of his budding romance with his patient. Darla's discovery of the secret of Devon and driver Aston (Ran Domingo) almost causes her death but it also changes the course of her life forever.


ADVERTISEMENT - CONTINUE READING BELOW