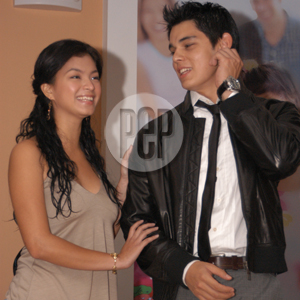 ---
Movie producers have been banking on the chemistry of Angel Locsin and Richard Gutierrez for three consecutive years now. It all started when the two played students who lived in worlds apart in the youth-oriented film Let the Love Begin (2005). A year later, Angel and Richard became lovers who sacrificed their dreams for each other in the movie I Will Always Love You (2006), which was shot in the beautiful city of San Francisco, USA. Now, the two are ready to take on mature roles in The Promise (2007).
The onscreen romance between the two is undeniable—prompting movie producers to tap their wide fan base and churn out romantic movies that herald the concept of true love. But even more interesting is the off-screen relationship of Richard and Angel—many will attest to the unusual closeness shared by the two while shooting their scenes together. Fans continue to clamor for their idols, calling them the "ultimate love team" even though the two have been seeing different people in real life. Angel was then committed to Oyo Sotto (they broke up last December 2006) while Richard is still with his Australian-based girlfriend Georgina Wilson.
In fact, it's the real life friendship that fuels the onscreen and off-screen chemistry between Richard and Angel. Their strong bond took root when they played fraternal twins in the youth-oriented show Click (1999) and continued during their tandem as half-avians, half-humans in the GMA-7 fantaserye Mulawin.
BOX-OFFICE TREND. GMA Films and Regal Films are trying to set a box-office trend with their Valentine movies starring Angel and Richard. As Angel and Richard matured, so did their roles. In The Promise, the two are cast as young adults who are passionately in love with each other, leading them to portray their first-ever love scene on the big screen. Director Mike Tuviera himself said that he lost track on how many times Angel and Richard lip-locked for the movie.
ADVERTISEMENT - CONTINUE READING BELOW
The Promise is an adaptation of the romance classic Wuthering Heights by the British novelist Emily Jane Bronte. It was first adapted for the big screen by Reyna Films via the movie Hihintayin Kita sa Langit (1991) directed by Carlitos Siguion-Reyna.
In their first Valentine's Day offering, Let the Love Begin, both of them play high school students. Eric (Richard) is having a hard time telling Pia (Angel) about his true feelings. Not that he's torpe (a shy suitor) but Pia is seemingly way above his status in life. Eric works as a janitor in the school and is on scholarship while Pia is the popular campus sweetheart.
San Francisco bore witness to the tremendous sacrifices done by Justin (Richard) and Cecille (Angel)—the lead characters of I Will Always Love You. Justin is a rich, smart, confident mestizo from one of Manila's private schools while Cecille is a lovely but simple scholar from a rural public school. Justin falls in love with the lower-class girl despite the disapproval of his parents. Adding visual appeal to the movie are tourist spots in San Francisco such as the Golden Gate, Palace of Fine Arts, Union Square, Foster City Lake and Fisherman's Wharf.
Let the Love Begin and I Will Always Love You both did well in the box office. The box-office returns of The Promise remains to be seen. This Valentine's Day, fans can look forward to the romantic (and intimate scenes) of Richard and Angel in The Promise.
When Richard Gomez and Dawn Zulueta filmed Hihintayin Kita sa Langit, the two fell in love—leading to a romance that lasted for two and a half years. And now, a loveless Angel and a hunky Richard have been teamed up to play passionate lovers in The Promise.
Fans everywhere are waiting to see if this movie is the spark that will finally push the bounds of their reel romance into the real world.
ADVERTISEMENT - CONTINUE READING BELOW
The Promise opens today, February 14, in theaters nationwide.