Months before the 2019 elections, director Mike De Leon has released his short film Kangkungan, a scathing criticism of President Rodrigo Duterte and his role in bringing back the Marcos family to power.

In the short film, President Duterte is accused of doing what De Leon considers an unforgivable crime: "Ang suportahan ang pagbabalik sa kapangyarihan ng walang konsyensyang Pamilya Marcos."

In its subtitles, this is translated as "supporting the return to power of the sociopathic Marcos family."

At the last public screening of his latest film, Citizen Jake, held at the University of the Philippines' Cine Adarna on February 23, 2019, director Mike De Leon premiered his short film criticizing President Rodrigo Duterte and the Marcoses.

The five-minute short film is titled Itinatapon na ang Pilipinas sa Kangkungan: A video by Mike De Leon.

The video has this caption: "Rodrigo Roa Duterte: A Portrait of the Dictator as Filipino (with apologies to Nick Joaquin)." This references the play, A Portrait of an Artist as Filipino, written by National Artist for Literature Nick Joaquin.

The video is narrated in Filipino, with scattered soundbytes of President Duterte himself. It compiles a number of the controversies Duterte has found himself in since he started campaigning until he assumed the Presidency.

De Leon, whose genealogy traces back to the Filipino filmmaking family behind the pioneering LVN Pictures, has been an outspoken critic of Marcos, the Philippines' past dictator, and of Duterte, the current president.
"In 2016, Rodrigo Roa Duterte ran for the presidency. He promised genuine change. His supporters enjoyed his obscenity and vulgarity. He believed that these traits endeared him to the masses. And he won.
"Under the guise of a war on drugs, he unleashed a reign of terror in the country. Thousands have been killed… And the killings continue unabated. 'Look for them…kill them. Period!'"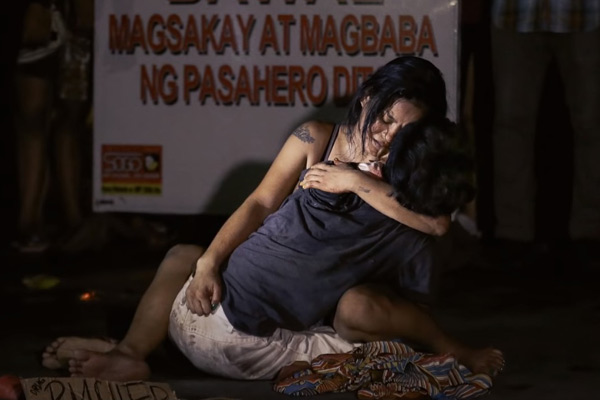 The video continues: "He has not let up on his attacks on the media, ridiculed human rights as obsolete, belittled freedom of religion… and excoriated the Catholic Church.
"He has threatened to kill priests and bishops.
"He declared Martial Law in Mindanao, a prelude to a nationwide repeat of Marcos' infamous regime. And he has committed the most heinous crime of all…against a nation that has forgotten its past…by supporting the return to power of the sociopathic Marcos family."
At the end of the video, De Leon calls for action, especially from the Filipino youth:
"Countrymen, the Philippine Senate remains the last bastion of resistance to this man greedy for absolute power. He is determined to foist upon us his chosen candidates, his minions whose qualifications are dubious, at best, and are no better than delusional clowns. He is determined to bring the Senate to its knees and ram Federalism down our throats.
"Because of this man, we are slowly but surely losing our sovereignty…to the brazen moves of Asia's newest superpower.
"When will this madness stop?
"This man is killing this country. Itinatapon ng taong ito ang ating Pilipinas sa kangkungan.
"Countrymen, and especially our nation's youth, this coming May, vote as if your future depended on it…as if your life depended on it."
De Leon's internationally-lauded films include Itim (1978, Asian Film Festival), Batch '81 and Kisapmata (1982, Cannes Film Festival Directors' Fortnight), and Sister Stella L. (1985, Venice Film Festival).

His other films, Aliwan Paradise and Bayaning Third World, have been re-mastered and will be screened at the UP Cine Adarna in April. Kisapmata is currently being re-mastered. His autobiography will also be released very soon.
In an interview with ABS-CBN News, De Leon said: "I feel that, at my age, having made a film after close to 20 [years], it seems like the end of something in my life as a film director.
"But health and age permitting, I don't intent to stop using my mind as long as it remains sharp."
Watch the full video of Kangkungan here: //www.youtube.com/embed/gBuScB_9n7E