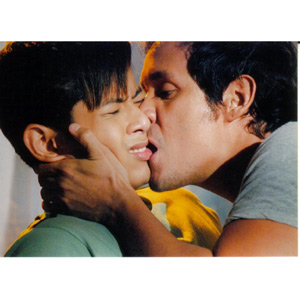 ---

Urian award-winning actor Emilio Garcia is on a high thesedays. The actor is getting rave reviews for his portrayal of Rufo, the bisexualcop in the indie film Walang Kawala. Directed by Joel Lamangan, thisindie film is being screened in Robinsons Galleria, Robinsons Ermita, GatewayMall, Cinerama Isetann, and New Cinema Theater (Cebu City).
Emilio gave a riveting performance as a corrupt policemanwho is the mastermind of a sex trafficking ring. (Click HERE to read the PEPreview on Walang Kawala.)
The actor doesn't mind if he was the second choice for therole of Rufo since Jay Manalo was supposed to play the plum role but he backedout at the last minute. "I'm glad that the movie-goers liked my performance,"says Emilio.

Just this year, he received three best supporting actor awards (the Urian, theStar Awards and Gawad Tanglaw) for his performance in Selda, which isco-directed by Paolo Villaluna and Ellen Ramos.

Emilio will be seen next in Senedy Que's Dose where he stars oppositeYul Servo. Dose is a film that again deals with homosexuality. The film isset to premiere on November 20 at the U.P. Diliman Cine Adarna at 7 p.m.
Emilio was also recently seen in Ang Manghuhula duringthe 10th edition of the Cinemanila International Film Festival. Directed byPaolo Herras, Ang Manghuhula is about a family of fortune tellers played byEula Valdez and Glaiza de Castro. Emilio also plays the head of a syndicate inthis film.
He is set to attend the 49th Thessaloniki International FilmFestival in Greece since Selda is set to compete there. It is touted asthe first Filipino film to compete in the said Greek film fest.
Emilio is set to star next in Joel Lamangan's SagradoPamilia.