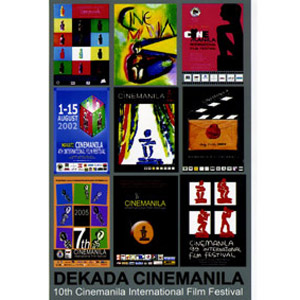 ---

Just weeks after the conclusion of Dekada Cinemanila: the10th Cinemanila International Film Festival, Cinemanila launches Sine Barangay,a five-day program of master classes and outdoor screenings of participatingCinemanila films. Sine Barangay runsuntil November 22 in Marikina.
The event, held in cooperation with Marikina City andMarikina Mayor Marides Fernando, will kick off with workshops in directing,indie filmmaking, cinematography, and editing on November 19. The workshops are to be held by renownedlocal filmmakers such as Raymond Red, Lav Diaz, and Raya Martin.
As part of the five-day event, Cinemanila will have outdoorscreenings from November 20-22 at the Marikina River Park. Participating shorts and documentaries fromthe recently concluded Dekada Cinemanila will be screened as part ofCinemanila's ongoing effort to make local indie films more accessible to thepublic.
"The key is taking these films out of the cinemas andbringing it to the communities through outdoor screenings organized incooperation with the local government units," said festival director TikoyAguiluz. "After 10 years ofshowing the best in world and Southeast Asian cinema in the theaters, webelieve this is a natural next step for Cinemanila, which we can and willcontinue year-round."
Also to be premiered at Cinemanila's Sine Barangay are twoshort films directed by former Eraserheads band members Ely Buendia and MarcusAdoro. Their shorts, produced in cooperationwith Cinemanila, will screen on November 20.
Admission for the Cinemanila Sine Barangay workshops andscreenings is free on a first come, first-served basis. For inquiries, emailcinemanila@gmail.com.
Workshop Venue: Kapitan Moy (near MarikinaCity Hall), Marikina City
Wednesday, November 19
10:00 am - 12 noon Screening
2:00 pm - 4:00 pm Master Class in Indie Filmmaking with Lav Diaz& Raya Martin
4:00 pm - 6:00 pm Master Class in Cinematography & Editingwith Maylyn Villalon of Scenema Concepts
Sine Barangay Schedule
Down from the Hill Screenings at Marikina River Park
Thursday, November 20
7:00 pm Shorts Night Short Films by Ely Buendia andMarcus Adoro, Dekada Cinemanila Short Films in Competition
ADVERTISEMENT - CONTINUE READING BELOW
Friday, November 21
7:00 pm Dekada Cinemanila Short Films in Exhibition
Saturday, November 22
7:00 pm UN MDG Shorts (2006: Yapak by MiloTolentino, Saling Pusa by
Antoinette Jadaone, Salagubang by Anima Aguiluz;2008: Lan-Ay, Andong by Milo Tolentino; Tumbang Preso byAntoinette Jadaone)
9:00 pm Marlon by Ralston Jover & JamesAmparo