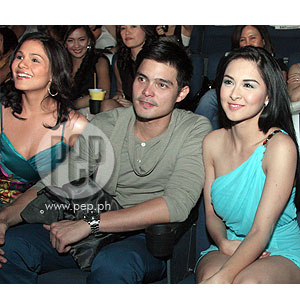 ---
When I saw the trailer, I deduced: It seems like nothing is quite striking aboutOne True Love.
The motorcycle accident and amnesia reminded me of Meteor Garden.
The plot narrating the struggles of two ladies over the affection of a guycould not be exactly qualified as extraordinary.
That scene where Marian Rivera was begging Dingdong Dantes not to leave herwas quite pitiable for my taste.
BUT when I saw the movie, I realized I made a hasty generalization.
THE STORY. Migs Mijares (Dingdong)was so in love with Joy (Marian) that in less than a year, he asked for herhand in marriage.
Even when Bela (Iza Calzado), the childhood sweetheart of Migs, returnedfrom Canadaand made an attempt to win him back, Migs's decision to marry his presentgirlfriend was resolute.
But early on, a tragedy struck the blissful marriage of Migs and Joy.
The guy met an accident, which caused his isolated retrograde amnesia. His last memory was that of his first and ex-girlfriend, and he forgot everythingabout his wife.
Joy did her best to bring things back to normal, but her husband could notfeel any emotional connection with her. Migs could not take his mind off his first love. Meanwhile, Bela tried so hard to distance herself from her Migs, butthe latter was persistent.
For her part, Joy became too interfering, always checking the whereabouts ofher husband and monitoring his calls. This provoked Migs to make a choice: Bewith his first love.
The wife made a last-ditch effort to save the marriage by talking to Belabut the meeting was futile.
ADVERTISEMENT - CONTINUE READING BELOW
At first, Migs and Bela were happy. But after a while, the guy startedmissing his wife. He became confused again, and slowly, he realized the girl who is hisone true love.
My personal notes:
(1) The plot is too fictive, but the treatment is realistic. People can relate to most of the scenes because the characters' reactions are veryinstinctive. Walang pilit. Walangpagpapanggap.
Migs's reaction when he woke up at the hospital was very intrinsic. He asked Joy, "Sino ka?" and his perplexity and anxiety were genuine.

Joy's pain when Migs left her was heartrending. She sobbed inconsolably.

Iza's awkward feeling when Migs asked her to hug him in front of his wife and family was effortless. Shock and discomfort were written all over her face.
(2) The movie had a lot of memorable story lines. Iwill give you a sample.
Joy confronted Bela after Migs left her: "Si Migs lang ang nawalan ng alaala, hindi ikaw."

Bela's rejoinder when she was asked by Joy to leave her husband alone: "Ako ang kanyang first love, first kiss, first everything...You have the only thing I ever wanted in life."
(3) The symbols used were apt and added more emphasis to the film'sdefining moments.
Note the spot where Dingdong proposed to Joy and see how it became relevant to the love story of Migs and the lady he loves.
Pay attention to the scene at the ladies' room, where Bela bumped into Joy, and the former washed her hands meticulously.
(4) And as mentioned earlier, there's nothing unpredictable about the mainsequence of events, but how the characters faced their struggles got me hooked.
THE CHARACTERS. Joy was toojumpy, but she's innately good-hearted. Bela was insensitive, but she's verylevel-headed.
Migs had his share of failings; but it became apparent that hisjudgment got fogged up by his amnesia. He was restless and confused, but in theend, he found what he wants and goes after it.
My personal notes:
(1) They all had their flaws but I couldn't hatethem.
(2) The portrayal of the characters was intense andvery natural—from the passionate kissing scenes to theheatedconfrontationsto the emotional goodbyes.
(3) Dingdong and Marian were effective in portraying their roles. Theirchemistry was palpable, and they were so at ease with eachother.
(4) Iza Calzado's acting was superb. Her eyes wereexpressive, and her delivery of lines impressive. There were several sceneswhere she rendered me speechless.
(5) The support characters—Tessie Tomas, JennicaGarcia, Bianca King, Pinky Marquez, Chinggoy Alonzo, including the taxi driver-contributedto the richness of the plot. Lahat may silbi sa istorya.
ADVERTISEMENT - CONTINUE READING BELOW
THE IMPACT. One word to describethe film: stirring.
You will find Dingdong's passionate character irresistible. You willfeel sorry for Marian's adverse struggles. You will admire Iza's selflessness.You will learn the many definitions of love. You will fall for One True Love.
Expect some glitches—like a few dragging portions, the distractingcast on Dingdong's arm, the scenes which were shown in the trailer butweredeleted from the film, the unexplained part where Dingdong secretlytook Joy'selectric bill, and the unlikely speedy arrival of Migs at Joy'slocation towardsthe end.
But overall, you will find it noteworthy. May sundot sa puso.
And you will definitely agree with me that the trailer was just the tip of the iceberg.