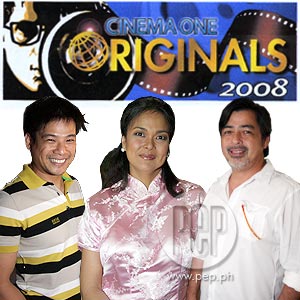 ---

ABS-CBN's movie cable channelCinema One proudly announces its seven finalists for the 2008 Cinema OneOriginals Digital Film Festival. Screened, trimmed down and finally chosen tovie for the top awards, each of these independent films have stories that areas individualistic and diverse, yet still very reflective of the Filipinoculture and which caters to a wide variety of audiences locally andinternationally.
The awarding ceremony will be held on November 28 (Friday)at ABS-CBN's Dolphy Theater (formerly Studio 1). As to be expected, the BestPicture is the much-coveted trophy. The jury members of this year's digitalfilm festival are director Brilliante Mendoza, actress Eugene Domingo, directorJeffrey Jeturian, as well as Manunuri ng Pelikulang Pilipino members GraceJavier Alfonso, and Lito Zulueta.
Motorcyle
Directed by Jon Red
Screenplay by Karlo de Guzman
Cast: Jason Abalos, Nonie Buencamino, Kat Alano, ShamaineCentenera, Lovely Rivero, Jao Mapa, Soliman Cruz, Jojit Lorenzo, Lance Raymundo
A tale of self-discovery, centered around a young man whojourneys to Vigan, Ilocos Norte. Instead his trip becomes a sojourn that willunlock his real identity and the secrets of his family. He goes on this roadtrip onboard his motorcycle as a favor to his father.
ADVERTISEMENT - CONTINUE READING BELOW
Dose
Directed by Senedy Que
Screenplay by Senedy Que
Cast: Yul Servo, Emilio Garcia, Irma Adlawan, Fritz Chavez,Allesandra de Rossi
November 20, UP Film Center, 7pm
When a friendly acquaintance develops into an unlikelycloseness between a curious 12-year-old boy named Edy (Fritz Arvhie Chavez) anda lonely gardener Danny (Yul Servo), the line that defines love and friendship,passion and trust inevitably intersects.

Kolorete
Directed by Ruello Lozendo
Screenplay by Sherad Anthony Sanchez
Cast: Roeder Camanag, Angeli Bayani, Perry Dizon, JeanJudith Javier, Frank Garcia, Coreen Chan, Chiqui Xeres Burgos, Lawrence Roxasand Edgar Sandalo
November 19, FEU Auditorium, 3:30 pm
November 24, College of Saint Benilde Amphitheater, 1pm
In the Spanish period, a town prepares for a stage play toserve as a despedida for the Alcalde Mayor or Gobernadorcillo who was dismissedby the town's friar. Adding to the controversy is the visit of a Filipinasoprano who is suspected to be an entourage of the incoming Alcalde Mayor.Suspicions arise but the secrets are inevitably unraveled. Everyone is takenaback when the play is finally staged.
ADVERTISEMENT - CONTINUE READING BELOW
Imburnal
Directed by Sherad Anthony Sanchez
Screenplay by Sherad Anthony Sanchez
Cast: Brian Monterola, Jelieta Mariveles-Ruca, AllenLumanog, Lawrence Garrido, Elvis Zerna, Dianne Zipagan, Maricel Rosello,Carmela de Guzman and Reyson Yap
Cinematography: John Torres, Joel Geolamen, Mark Limbaga
November 20, UP Film Center, 9 pm (director's cut)
This is a tale of manhood about to erode two pubescentmales. While always hanging out in the crevasses of Punta Dumalog to escapepoverty, Rabat (Brian Monterola) and Allen (Allen Lumanod) also find solace,dent their friendship and shape their orientations in life.
Winner: Lino Brocka Grand Prize, Digital Lokal 10thCinemanila International Film Festival
UPCAT
Directed by Roman Olivares
Screenplay by Alfred Geoffrey Reyes
Cast: Felix Roco, Joseph Roble, Hiyasmien Neri, Mark Gil,BembolRoco, Malou Crisologo, Richard Cuan
November 20, UP Film Center, 5pm
November 25, Assumption College, 1pm
A coming-of-age light melodrama that centers around Lucas(Felix Roco) and best buddy Jaoquin (Joseph Roble), provincial lads who believepassing the UPCAT (University of the Philippines College Admission Test) is thepassport to their dreams of a better future. However, Lucas is more concernedabout winning the heart of his rich schoolmate Jane (Yas Neri).
ADVERTISEMENT - CONTINUE READING BELOW
Yanggaw
Directed by Richard Somes
Screenplay by Richard Somes
Cast: Ronnie Lazaro, Tetchie Agbayani, Joel Torre, ErikMatti, Dwight Gaston, Gio Raspall, Monet Gaston, Keith Bryan Cabanez and AleeraMontalla
November 24, College of Saint Benilde Amphitheater, 7:30pm
In a tiny province, superstitions are still embedded in thelives of a particular family. When Junior's (Ronnie Lazaro) daughter Amor(Aleera Montalla) becomes stricken with an unknown illness affecting herbehavior, Junior has to choose between his family or Amor.
Alon
Directed by Ron Bryant
Screenplay by Ron Bryant
Cast: Mark Gil, Eula Valdez and Charee Pineda
November 24, College of Saint Benilde Amphitheater, 6pm
November 25, Assumption College, 3:30pm
Vanni (Charee Pineda), a 17-year-old girl, spends hervacation in a seaside village. While looking for her lost puppy, she sees Fiel(Mark Gil), a lonesome 50-year-old man. Vanni decides to hang out in the man'shouse and a fondness develops between them. However, he has an ailing wifeafflicted with cancer.
ADVERTISEMENT - CONTINUE READING BELOW
Watch all the seven new movies also at IndieSine atRobinsons Galleria Movieworld from December 3 to 10. Please call DwightPangilinan at 0917-6040824 or Ruby Gonzalez at 0918-9794175 for blockscreenings and school showings.