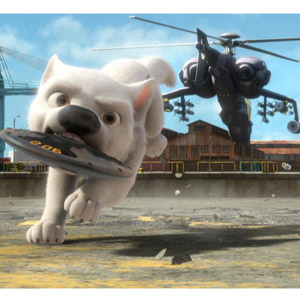 ---

Filmmakers of Walt Disney Pictures' new animated adventure Bolt knew that the title character called for a special talent, a voice that could showcase the character's action-TV persona and his real world discoveries. To do this, they tapped John Travolta, one of the most enduring and endearing actors working today.

Bolt tells the tale of a TV super-dog forced to face his own real-life limitations while on a cross-country rescue mission to save best pal and owner Penny (voiced by Miley Cyrus) from fiendish criminal mastermind, Dr. Calico. The power pup soon discovers his laser vision, lightning speed, super strength and devastating superbark--capable of leveling tall buildings--are merely the result of TV special effects.

"We were really fortunate in having John Travolta voice our main character," says director Chris Williams. "He is someone who's had a lot of success playing tough characters in his career. One of the reasons why he's so good at that is because there is an innate sweet quality in him--as bad and mesmerizing as a character can be, he's still somehow likeable. This was the perfect combination for playing a dog who thinks that he's a very threatening, menacing figure but underneath it all is really a normal loving puppy who loves his owner. It plays to two of John's biggest strengths. It was a thrill working with an icon who's been in so many great movies, and I think his performance really brought something special to the character of Bolt."
ADVERTISEMENT - CONTINUE READING BELOW

According to Travolta, "I had never done an animated feature but when I got the call from [Disney Studio chairman] Dick Cook and he told me that this character really suited my personality; I decided that it was a territory worth investigating. To me, the fun part was seeing how the animators created the dog using my voice, expressions and interpretations. I would experiment and give them 20 or 30 versions of one line. They use their imaginations and artistic skills, and it was the most exciting thing to see the marriage of the two. It turned out great.

"Working with the filmmakers was fantastic and Chris Williams was a revelation to me," continues Travolta. "His affection for animation was infectious, and I was so tickled by everything we were doing and his choices. The collaborative effort was huge. This guy really knows what he's doing and had a vision for what the film should be.
ADVERTISEMENT - CONTINUE READING BELOW

"I love that the film has so much heart," Travolta concludes. "If you've ever been separated from your favorite animal, and if you've ever loved someone and you miss them, you're brokenhearted because you can't be near them. I think audiences will identify in a big way with Bolt and his owner, Penny. It's a love story, really, and it's completely entertaining and inviting."

Opening across the Philippines on November 26, Bolt is distributed by Walt Disney Studios Motion Pictures International.