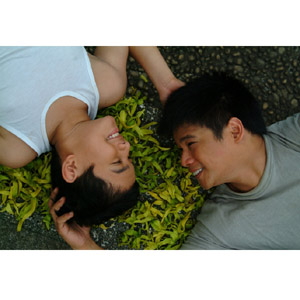 ---

Love knows no ageor gender.
This is what the CinemaOne 2008 entry Dose (Twelve) aims to tell moviegoers. It willrely on the acting skills of Yul Servo and budding actor Fritz Chavez to evokepassion and the imaginations of viewers when they watch this sensitive film.When they meet, the line that separates love and abuse blurs, resulting in atouching and intimate friendship that defies social and moral standards.
Written and directed by SenedyQue, Dose also stars Emilio Garcia, stage veteran Irma Adlawan, Ray AnDulay, and Arlene Tolibas. Alessandra de Rossi is cast in a special role as theteacher of the young boy Edy who feels unloved and neglected.


When a friendly acquaintance develops into an unlikelycloseness between a curious 12-year old boy named Edy and a lonely gardenerDanny, the line that defines love and friendship, passion and trust inevitablyintersects. In the end, theirs becomes an either complex relationship or mutualcompanionship that defies age...and gender.
ADVERTISEMENT - CONTINUE READING BELOW
Direk Senedy himself gives a warning about his debut film:"It's a very disturbing story...it's about the need of love for every child."
He points out: "Hereis a story where a child and a man bonded because of the void they both want tofill. Iyong bata unloved, yung hardinero naman malungkot. That's why when theybecame close, the line between friendship and affair is blurred, yet theintrigue is there kaya everybody will feel iyong lalim ng pelikula."

Debunking the story to be autobiographical, the scriptwriter-turned-directorreveals that Dose is filled with snippets or lines from filmshe grew up with. "There are associations here from movies like Waikiki, Darna, Dyesebel, The Sisters and Underage, kasi thegay-like lines add amusement to Dose's story."But it's still the progressing and provocativetoo-close-for-comfort relationship between two people that will leave a mark inmoviegoers' hearts.
PEP (Philippine Entertainment Portal) asked Yul if he feltawkward while shooting a sensitive scene with a young boy.
ADVERTISEMENT - CONTINUE READING BELOW
He explained, "Hindi naman kasi bago ko naman tinanggap yungtrabaho, binasa ko muna yung script. Yun nga sabi ko kay Direk [Maryo J. delosReyes, his manager], okay ba 'to? Siyempre, ako naman hindi naman akobasta-basta tumatanggap ng trabaho. Maski maganda, siyempre minsan may magandapero hindi maganda ang feedback din sa yo di ba? Tinatanong ko si Direk Maryoano bang gagawin. Ang sabi ni Direk e, tanggapin mo yan."
Since Yul is splitting his time between being an actor and apolitician, which profession gives him the most fulfilmment?
"Halos parehas lang po. Pero siyempre mas love ko po yungtrabaho ko bilang artista. Kasi yun naman po talaga yung una kong ginusto."
Acting can also be considered to be the first love of FritzChavez, Yul's object of affection in the movie. At ten years old, Fritz actsmature for his age and has no fears about being taunted by his classmates fordoing a gay movie. When he does get teased, he answers back by asking thebullies they get paid to act or if they have the chance to work with big-namestars just like him. With his self-confidence in place, Fritz hopes to carve aname for himself in the showbiz industry. He has previously appeared inABS-CBN's teleserye Maligno as a classmate of the demonic child and inGMA-7's Joaquin Bordado as the young Eddie Garcia.
ADVERTISEMENT - CONTINUE READING BELOW
Fritz narrates that he worked for four days on this CinemaOne entry. He says with a huge smile, "Challenging sa akin itong movie. Proudna proud nga po ako, e!"
Dose isproduced and owned by Cinema One and Creative Programs, Inc. (CPI). The 2008Cinema One Originals digital film festival runs until November 27. The awardingceremony is on November 28 at the Dolphy Theater of ABS-CBN. Itstheatrical screening will be from December 3 to 10 at IndieSine, RobinsonsGalleria.
Dose (2008)
Director: Senedy Que
Executive producer: Ronald Arguelles
Story & screenplay: Senedy Que
Cast:
Yul Servo - Danny, the Gardener
Fritz Chavez - Edy, a 12-year old unloved child
Emilio Garcia - Edy, a 40-year old filmmaker
Irma Adlawan - Helen, 38-year old aunt who takes care of Edy
Ray Ann Dulay - Bobby,Edy's current boyfriend
Arlene Tolibas - Pilay, the loyal maid
Alessandra de Rossi - The teacher