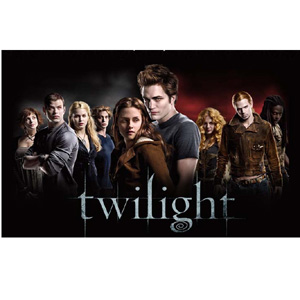 ---

Topbilled by Kristen Stewart and Robert Pattinson, Twilightis about the unusual love between high school student Bella Swan(Kristen) and a 90-year old dashing and handsome vampire named Edward Cullen(Robert). Together they must fight all the challenges that threaten their love,along all the odds that are presented to them as human and immortal. Thequestion is, when you can live forever, what do you live for?
When Bella's mother remarries andsends Bella to live with her father in Forks, Washington, she doesn't expectmuch to change. Then she meets the mysterious and dazzlingly handsome EdwardCullen (Robert Pattinson). Soon, Bella and Edward are swept up in a passionateand decidedly unorthodox romance. Edward can run faster than a lion, he canstop a moving car--and he hasn't aged since 1918. Like all vampires, he'simmortal. But he doesn't have fangs, and he doesn't drink human blood. ToEdward, Bella is his soul mate. But the closer they get, the more Edward muststruggle to resist the primal pull of her scent. What will they do when James(Cam Gigandet), Laurent (Edi Gathegi) and Victoria (Rachelle Lefevre), theCullens' mortal vampire enemies, come to town, looking for her?
ADVERTISEMENT - CONTINUE READING BELOW
Twilight is based on the No. 1New York Times best-selling series with over 17 million books in print byStephanie Meyer. It was published in October of 2005 and since then, it hasgained a cult following of loyal and enthusiastic fans. Director Catherine Hardwicke brings to life this modern, visual, and visceral Romeo & Juliet story of the ultimate forbidden love affair--between a vampire and a mortal.
The Dolby Digital Cinema at Gateway Cineplex 10 will beexclusively screening the digital format of Twilight, the youngadult vampire-romance novel written by author Stephenie Meyer. All cinemas atGateway Cineplex 10 are also equipped with Dolby Digital EX Ultra Sound and thelargest curved screen in the country.


Twilight iscurrently being screened in cinemas across the Philippines.