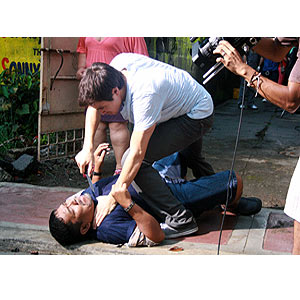 ---

Sam Milby prepared himself mentally and physically for hisrole as a mysterious call center agent in his first indie film titled Cul deSac. Not only that, his character will have a scar on his left cheek, justlike the 23-year-old director of the film, Juan Miguel Sevilla.

In preparation of his action sequences in the film, Sam watched films such as FightClub (1999), which stars Brad Pitt and Edward Norton. Direk Juan Miguelalso revealed that he likes suspense thrillers so his directing style issomewhat influenced by British filmmaker Alfred Hitchcock.
Cul de Sac (Dead-End) also stars JodiSantamaria-Lacson and Chin Chin Gutierrez. Jodi plays Sam's officemate in thecall center but the director points out that Sam does not have a love teampartner in this film, which is a first for the matinee idol. Chin Chin is castas a lounge singer whom Sam believes will be able to answer all his questions.
"The title is derived from a French word which meansbottom of the bag," explains Direk Juan Miguel. "But in the context of thestory, it could also mean dead end. I thought of this story when I was still incollege. I was looking for a place to park but I found myself in a dead end. Inreal life, it's not a dead end because you can actually make a U-turn.
"This is a story of a guy [Sam] who seems stuck on adead end. He thought he didn't have a choice but actually he has. All he needsto do is make a U-turn."


After graduating from college, Direk Juan Miguel starteddoing several music videos for bands such as Kjwan, MYMP, and Chicosci.

When he learned about the Cinemabuhay contest looking for possible projects, hesubmitted the sequence of Cul de Sac that he wrote three years ago whenhe was still studying Mass Communication at the Ateneo de Manila University. "Iwrote it when I was stressed at wala akong tulog," he recalls.
ADVERTISEMENT - CONTINUE READING BELOW
Cul de Sac was chosen among 39 entries submitted forfunding to Cinemabuhay. This is the second project funded by Cinemabuhay of thePLDT-Smart Foundation headed by Mr. Butch Meily, president of PSF, and AlbertMartinez, PSF executive director (Film Fund). In 2006, the group funded theMaricel Soriano-starrer Numbalikdiwa, which took part in the 8th editionof the Cinemanila International Film Festival.
This suspense thriller was shot in 18 days in various MetroManila locations.
How was the experience working with the Star Magic talent?"He's very good. On our first shooting day he seems even more excited than me.I talked to him. I told him it's my first film and it's my concept. He alsogave me inputs regarding the story so I became a little more relaxed. I waskind of afraid dealing with a star of his caliber but after meeting Sam, Irealized he's a very nice person. He is one of the nicest persons I've evermet. It's not an actor-director relationship that we were able to develop."


Is he satisfied with Sam's performance? "Yes, I'm verysatisfied. He gave me more than what I asked for. Pag sinabing kong okay na,but if he thinks that it's not a good take, he will ask for another."

What about Chin-Chin and Jodi?
"Sina Chin-Chin binabago nila yung approach. May threemethods on how to approach the character, e. Minsan nga hindi ko napansin sacharacter tapos may ia-add silang something na parang to make it better."


Cul de Sac will have its premiere on November 29 at SM Manila andit will be shown in SM cinemas nationwide starting December 3, 2008. Itis rated PG by the Movie and Television Review and Classification Board.