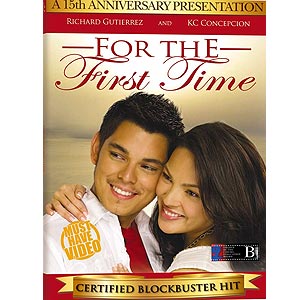 ---

A lot of people thought that these two showbiz royalties would be unable to appear together in a movie. However, through the lobbying of KC Concepcion and Richard Gutierrez themselves, they were able to appear in their first romantic drama titled For the First Time.

Directed by Joyce Bernal, this film was partly shot in Santorini, Greece and was shown on the big screen last August.

The sequel of their film was tentatively titled When I Met You but reports say that it is now called Save for the Best for Last. Directed by Joey Reyes, Richard and KC's follow-up project is scheduled to open by February 2009. Like the first four Valentine movies of Richard--Let The Love Begin, I Will Always Love You, The Promise, and My Best Friend's Girlfriend--it will be co-produced by Regal Entertainment.

But before you get too excited with theis upcoming Valentine movie presentation, avid fans of KC and Richard can now take home a copy of their first project together courtesy of Star Home Video.

Original DVD copies of For the First Time are now available in record bars nationwide.


FOR THE FIRST TIME SYNOPSIS. Cupid's love arrow struck the most unlikely to be couple: Seth Alexander Villaraza (Richard Guitterez) a notorious talk of the town playboy and Sophia Carmina Sandoval the perfect girlfriend but too busy to find love.

There two different personalities disastrously collide when fate serendipitously entwined their lives together in Santorini, Greece, and love has overruled their pained hearts and has proven that opposite truly attracts. Just when true love has finally found them for the first time, the pain of the past and the uncertainty of the future have challenged them to step back...

Is Seth brave enough to truly love and be hurt for Pia's sake or will he run away again? Will Pia find the love that will completely heal her or Seth is just another mistake?

For the First Time is a romantic story of a unexpected love chemistry between Mr. So wrong and Ms. So perfectly right. This is a love story that will magnify the power of love to triumphantly conquers all our in differences, fears, pain, and doubts.


PEP PROMO. Five lucky PEPsters will be able to take home one copy of For The First Time starring Richard Gutierrez and KC Concepcion.

Click this link to answer the featured question and get a chance to win in the electronic raffle.

http://www.pep.ph/pepid/peploot/promo.php?id=21

Promo ends on December 11, 2008. The five lucky winners will be notified when they can pick up the DVD copy of For the First Time at the Summitmedia Office at Robinsons Cybergate Tower 3, Pioneer St., Mandaluyong City.


ADVERTISEMENT - CONTINUE READING BELOW