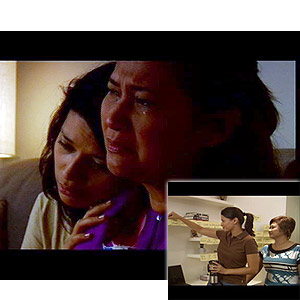 ---
If you had a few months to live, what would be your listof the 100things to do?
That's the major premise of the film 100.
I watched it with zero expectation. I intentionally did notbother to read the synopsis. I didn't make any effort to check why internationalcritics hailed it as a "quality" movie. I didn't even know that Tessie Tomaswas part of the cast.
I was both clueless and curious when I entered the cinema.
The first thing I noticed was the storytelling. It wasstraightforward, fast-paced, and unfaultable.
From the start, the scene had my senses working already. Joyce(Mylene Dizon) resigned from her work. She was young, single, and at the peakof her career. Her boss was flabbergasted and urged Joyce to change her mind, but shewas resolute.
The reason behind her resignation: She had cancer. Joycenonchalantly broke the news to her best friend Ruby (Eugene Domingo). She didn't cry buckets of tears. She didn't blame anyone. She faced thecrisis head on and with dry optimism.
This was where the 100 tasks to accomplish came in. Shewrote each one of them in a post-it note—making sure her credit cards hadzero balance, paying her bills in advance, purchasing her coffin, evenchoosing the dress she would wear in state, and so forth. She had everything mapped out.
One of the hardest things she had to do was telling her mom(Tessie Tomas). It was a poignant scene with a touch of humor. The setting wasin a hospital room. Mylene was lying in her bed, but it segued to Tessie whose blood pressure shot up.
The best parts of the film were Joyce's bonding moments withRuby, her mom, her first love (Ryan Eigenmann), her brother (Simon Ibarra) andher nephew. It was collage of beautiful memories, some of which took place in Hong Kong, Manaoag, Bolinao, and Mt.Pinatubo.
ADVERTISEMENT - CONTINUE READING BELOW
And I was expecting a heart-wrenching ending, but I left myseat feeling good for Joyce.
The second notable thing about 100 was the treatment. It's very idiosyncratic and creative. Direk Chris Martinez, who also wrote the screenplay, did a splendid job!

Veering away from all the drama, the main character was ableto evoke empathy from the viewers. Joyce cried once in the movie, but I was movedto tears several times.
Humor was injected in some of the scenes spontaneously, making the grave situations less burdensome for the viewers.
In terms of capturing the scenes, I found the tight shots quiteavant-garde. I've seen it in some French films, and I found them time-consumingand even rubbish. But in 100, suchexecution helped in telling me subliminally that every move and every secondcounted to Joyce.
Using "raw" shots for the Hong Kongtrip of Ruby and Mylene was also quirky in a good way. I noticed the view, and most especially noted the real fun.
Some portions are blurry, and I couldn't tell if that'sintentional or a glitch. But I chose not to make a big fuss out of it since myeyes were glued on the characters.
The best aspect of the film was the acting.
Mylene's approach had so much depth. She didn't have to cryto create that emotional connection with the viewers. I initially intended towrite down my most favorite scene but I realized that all of them are amazinglygood.
Eugene'sperformance was effortless. She didn't have to try too hard to induce areaction from the audience. I laughed my heart out when she told Joyce,"Malandi ka..."
Tessie's portrayal was also impressive. She didn't have tobe prominent in the frames where she was included to be noticed. I was moved bythat moment when she cooked kare-karefor her daughter.
Even the secretary (Maritess Antonio) and Joyce's brother(Simon) left a mark.
ADVERTISEMENT - CONTINUE READING BELOW
Most of all, I like the message of the film. If you have afew months to live, what would be the 100 things in your to-do list?
The story jumpstarted with a tragic premise. But lookingat it as a whole, the underlying tone became "Each day is worth acelebration."
I left the cinema with 100reasons why this award-winning film is worth experiencing!

100 is currently being screened in SM North Edsa, SM Megamall, Glorietta, Robinsons Galleria and Robinsons Ermita.