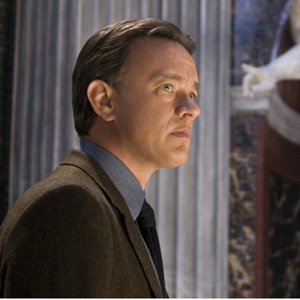 ---

Tom Hanks takes on the Vatican. Denzel Washington messes with hijackers. Will Smith pursues seven total strangers. Christian Bale leads the resistance against the machines. And the world ends... (at least on the big screen) in the movie 2012. To the cinemas all, as Columbia Pictures unveils its sterling line-up of films for 2009!


Angels & Demons. Director Ron Howard and the team behind the global phenomenon The Da Vinci Code return in the film adaptation of another Dan Brown bestseller. Tom Hanks reprises his role as Harvard religious expert Robert Langdon, who once again finds that forces with ancient roots are willing to stop at nothing, even murder, to advance their goals.

Terminator: Salvation. Set in post-apocalyptic 2018, Christian Bale stars as John Connor, the man fated to lead the human resistance against Skynet and its army of Terminators. But the future Connor was raised to believe in is altered in part by the appearance of a stranger whose last memory is of being on death row.

2012. Never before has a date in history been so significant to so many cultures, so many religions, scientists, and governments. The new film from director Roland Emmerich is an epic adventure about a global cataclysm that brings an end to the world and tells of the heroic struggle of the survivors (including John Cusack & Amanda Peet).

Seven Pounds. Will Smith reunites with the director of The Pursuit of Happyness for this emotional drama an IRS agent with a fateful secret who embarks on an extraordinary journey of redemption by forever changing the lives of seven strangers.

Underworld: Rise of the Lycans. The third film in the blockbuster "Underworld" franchise delves into the origins of the centuries-old blood feud between the aristocratic vampires and the barbaric Lycans (werewolves).

The Year One. Produced by Judd Apatow, this comedy starring Jack Black looks at the early history of civilization using Genesis, the first book of the Bible, as an emotional psycho-social template.

The Taking of Pelham 123. Denzel Washington stars in this action-thriller about a group of armed men who hijack a subway train and demand a ransom for the passengers. But even if it's paid, how could they get away?

The Pink Panther 2. When legendary treasures from around the world are stolen, including the priceless Pink Panther Diamond, Chief Inspector Dreyfus (John Cleese) is forced to assign intrepid-but-bumbling Inspector Clouseau (Steve Martin) to a team of international detectives and experts charged with catching the thief.

The International. A determined Interpol agent (Clive Owen) tries to bring down the world's most influential banker who serves as financier and money launderer to the largest and most violent criminal and terrorist organizations.

Punisher: War Zone. Waging his one-man war on the world of organized crime, ruthless vigilante-hero Frank Castle (Ray Stevenson) sets his sights on overeager mob boss Billy Russoti. After Russoti is left horribly disfigured by Castle, he sets out for vengeance under his new alias: Jigsaw. Based on the hugely popular Marvel Comics series.

The Ugly Truth. A romantically challenged morning show producer (Katherine Heigl) is reluctantly embroiled in a series of outrageous tests by her chauvinistic correspondent (Gerard Butler) to prove his theories on relationships and help her find love. His clever ploys, however, lead to an unexpected result.

Obsessed. A suspense-thriller about a successful asset manager who is blissfully happy in his career and marriage to his beautiful wife (Beyoncé Knowles). But when a temp worker (Ali Larter), starts stalking him, all the things he's worked so hard for are placed in jeopardy.
Julie & Julia. Nora Ephron directs this comedy about the real-life story of Julie Powell who takes on a year-long culinary quest: cook all 524 recipes in Julia Child's "Mastering the Art of French Cooking." She chronicles her trials and tribulations in a blog that catches on with the food crowd.

Armored. A crew of officers (including Matt Dillon and Milo Ventimiglia) at an armored transport security firm risks their lives when they embark on the ultimate heist... against their own company. Armed with a seemingly fool-proof plan, the men plan on making off with a fortune with harm to none. But when an unexpected witness interferes, the plan quickly unravels and hell breaks loose.

The Stepfather. A "family values" man (Dylan Walsh) comes into the life of a single mother (Sela Ward) and eventually moves in with her children. But her teenage son (Penn Badgley) begins to suspect that his stepfather is not quite the dream man he pretends to be.

Paul Blart: Mall Cop. Paul (Kevin James) loves his job but his enthusiasm and dedication gets only contempt from his colleagues and the mall employees. But things are about to change...

Fired Up. Shawn (Nicholas D'Agosto) and Nick (Eric Christian Olsen), the stars of their high school football team, are dreading the prospect of another summer at football camp. When Nick hatches a scheme for the two to join their school's cheerleaders at cheer camp instead, they find themselves awash in a sea of gorgeous young women.

Mardi Gras. Three college seniors travel to New Orleans for the annual celebration, with the hopes of getting some action. But what they find may be more than what they bargained for.
ADVERTISEMENT - CONTINUE READING BELOW