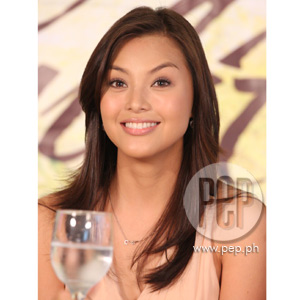 ---

Malaysian actress Carmen Soo is starting to make her mark onPhilippine showbiz. After portraying the leading lady of Jericho Rosales in KahitIsang Saglit, she was recently tapped to be the newest celebrity endorserof Petit Monde. (Click HERE to read related article.)


She is also being considered to take part in a romanticdrama starring Jericho Rosales and Kristine Hermosa. Carmen herself said thisduring the thanksgiving press conference Kahit Isang Saglit held lastDecember 3 at 9501 restaurant at ABS-CBN.

When asked if she has long-term plans here in the Philippines, Carmen replied,"Miss Malou [Santos, Star Cinema managing director] said that there might be amovie next year with Echo."
Echo had a slip of the tongue and revealed that Carmen is also studying the script for her role in the John Lloyd Cruz-Maricel Soriano movie.


The Malaysian actress is slated to have a cameo role in T2, which willbe directed by Chito Roño. Short for Tenement 2, the movie T2 isabout a woman named Claire (Maricel Soriano) who works in a travel agency. She meetsa young girl (portrayed by Mica dela Cruz) who lost her parents. John LloydCruz is also cast in this horror flick.

This movie marks the Diamond Star's fifth movie with Direk Chito. Theypreviously worked on the films Minsan Lang Kitang Iibigin (1993), Separada(1994), Dahas (1995), and Nasaan ang Puso (1997).

The press then asked Echo and Carmen to give their message for each other nowthat their TV show is coming to an end. The Malaysian actress said, "After wewrapped, we had a little chat and I told him it's been an honor and a pleasureto work with him. I thanked him for the friendship and for teaching me."

Echo also shared his thoughts about his Malaysian leading lady. "Ako definitelyI would like to work with Carmen again. If Star Cinema says we have anotherproject together, that would be good. Masaya na naman yun kasi it would be adifferent experience to work with her on film naman."


ADVERTISEMENT - CONTINUE READING BELOW
Their teleserye
Kahit Isang Saglit
willbe shown in Malaysia starting January 2009. The DVDs of the first three volumesof KIS will be available in record bars when the show ends this Friday,
December12
.