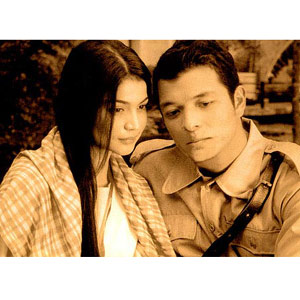 ---

In 1898, the 57-man Rifle Battalion of the Spanish militaryclashed with the Filipino forces because they refused to believe that the warwas already over. Dubbed as the Siege of Baler, the Spanish troops holed upinside the church of San Luis Obispo located in Baler, Aurora province for 337days.
This is the setting of the movie Baler, a love storybetween a young Filipina who falls in love with a half-Spanish/half-Filipinoyoung man even though her father forbids her to be with the Indio.

Can Feliza Reyes (Anne Curtis) and Celso Resurrecion (Jericho Rosales) overcomethe obstacles hindering them from being together? Find out when Baler openson Christmas Day as one of the eight official entries to the 34th Metro ManilaFilm Festival.
According to Mr. Vic del Rosario, chairman of Viva Films,the producers shelled out around P90 to P100 million including the marketingcost.

More than P20 million was spent to reconstruct the interiors of the church ofSan Luis Obispo where the historic encounter took place between the SpanishRifle Battalion (who were not aware that the war had long ended) and theFilipino forces. Even the exteriors of the church were renovated to make themlook the way they did in 1898.
A big chunk of the budget went to the making of gunsdesigned like those existing in 1898 and to the costumes of the stars and thehundreds of extras hired for the big scenes.


The historical film Baler is being endorsed by theDepartment of Education and the National Commission for Culture and the Arts.In fact, these agencies which will launch a nationwide film review contestamong students.


Director Mark Meily explained this love story set in 1898 is filled withcharacters based on persons who actually lived during the Spanish era. "Whatmakes them more exciting for the actors is the fact that their charactersexisted in real life. For example, si Gregorio Catalan [played by Alvin Anson],there is a real Gregorio Catalan na pinanganak sa ganitong date...Pag pumalpak kasa role mo, parang dinishonor mo yung namatay.
ADVERTISEMENT - CONTINUE READING BELOW
"Ryan Eigenmann's character [Lt. Don Saturnino Martin Cerezo] existed in real life and he wasthe one who wrote the story of Baler. Allen Dizon played Lt. Col. Simon Tecson,and natuwa kami nung climax ng film kasi bumisita yung grandson of Tecson.Naiyak siya nung napanood niya yung sinu-shoot naming eksena kasi sa lolo niyanag-surrender ang Spanish army. Ang sabi niya, 'Alam n'yo, ganyan ka-guwapoyung lolo ko.'"
He also points out: "Baler is a story of love,perseverance, honor, and faith. My first encounter with Baler was in 1989 whenI was shooting a travelogue for the DOT [Department of Tourism]. I will neverforget the long drive from Quezon upwards, the roadsides, the waterfalls, thesurfing, and of course, the church. There's nothing unique about thearchitecture of the church of San Luis Obispo until you learn about great dramathat happened in it a century ago."

Roy Iglesias, who wrote the screenplay of Baler, said that he alsowanted to write a film on the siege of Baler. "The idea actually came to me 28years ago when a friend showed me an article about the last stand of theSpaniards in the Philippines and commented on how wonderful it would be to do afilm on it. I did further research but discovered that all of the accountssimply highlighted the Spanish viewpoint."
Baler also stars Phillip Salvador as Anne's father,Michael de Mesa as Fr. Candido, Joel Torre as Teodorico Luna Novicio, RioLocsin as Ason, Carlo Aquinoas Gabriel, Leo Martinez as Calixto Villacorte, Baron Geisler as Capt. Enriquedelas Morenas, Bernard Palanca as Lt. Don Juan Alonzo Zayas, Jao Mapa as Mauro,DJ Durano as Pablo, Nikki Bacolod as Luming, and Mark Bautista as Nikki's loveinterest, Lope.

Andrew Schimmer also portrays Mola while Mikel Campos and PJ Valerio are tappedto play Spanish soldiers.

Watch the historical film Baler when it opens in cinemas nationwide starting December 25.



ADVERTISEMENT - CONTINUE READING BELOW