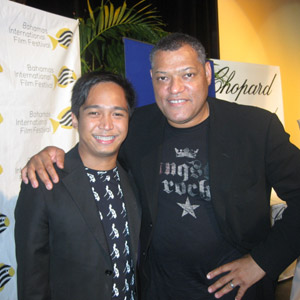 ---

The 2008 Cinemalaya entry Jay once again broughthonor to the country when it was given the Special Mention Award (New VisionsCategory) at the 5th Bahamas International Film Festival. The awards night ofthe 5th BIFF was held at the Atlantis Hotel & Resort on Paradise Islandlast December 8.
This year's BIFF, which took place from December 4 to 11,showcased 80 films from 22 different countries. The four competition categoriesat BIFF are Spirit of Freedom: Narrative; Spirit of Freedom: Documentary; NewVision; and Short Film.

The Filipino film Jay, directed by Francis Xavier Pasion, stars BaronGeisler and Coco Martin. In the official website of the BIFF, they describe Jayas a movie about "a gay schoolteacher, is brutally murdered in an apparentsex-crime. Even before his family hears about it, a TV producer—also namedJay—and his camera crew are inside their house to document their shock andgrief. The TV producer convinces the family to let him shoot the dead man's wake and funeral for a 'reality show.'" The indie film shot in Pampanga was screened twice in the Bahamas.


According to Ferdy Lapuz of Ignatius Films Canada, the nextstop for Jay will be the Berlin Hotshots (competition), Rotterdam,Goteburg, Black Film Festival (Geneva) and FICCO (Mexico, competition) internationalfilm festivals.


During the awards night, the festival honored Academy-Awardnominee Laurence Fishburne with the Career Achievement Award whileactress/comedian Anna Faris was given the Rising Star Award.
During an interview with Ben Lyons for the show At theMovies, Fishburne recalled his experience with his first film ApocalypseNow by Francis Ford Copolla. Fishburne admitted that he was just 14years old when he came to the Philippines to shoot the said war movie.
After the awarding ceremony, Francis and Ferdy went up tothe stage to talk to Laurence, whom Ferdy described as "veryaccommodating." When the Matrix star learned that they were fromthe Philippines, he hugged both of them. Fishburne then revealed that he stayedin the Philippines for almost two years but although he does not rememberexactly where in the Philippines because he was very young then.
ADVERTISEMENT - CONTINUE READING BELOW

He then told Ferdy and Direk Francis that out of all the films that he has made during his careerspanning three decades, people best remember his as Morpheus in the Matrixtrilogu. However, he hopes that more people will recognize him as Dr. RaymondLangston in the TV series Crime Scene Investigation (CSI).