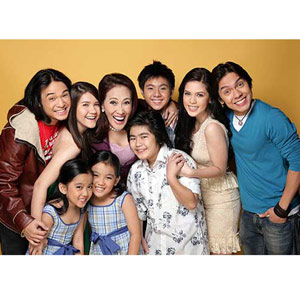 ---

The first Tanging Ina movie was a certified blockbuster five years ago. What happened to everybody's favorite mother since then?

Find out in Star Cinema's official entry to the 34th Metro Manila Film Festival. Since Ai-Ai delas Alas plays the President of thePhilippines in the Star Cinema film Ang Tanging Ina N'yong Lahat,members of the press curiously asked if she has plans of running for politicaloffice. During the December 18 press conference of Ang Tanging Ina, theConcert Comedy Queen responded by saying, "Sa 2010 wala po pero isa po yan samga plano ni ama [her manager Boy Abunda] sa akin. Pero baka hindi pa po sa2010, baka sa next, next election pa."


She points out that she would like to follow up in the footsteps of GovernorVilma Santos. "Idol ko po kasi si Gov kaya kung ano yung tinatahak ni Gov,tinatahak ko rin po. Wala lang po akong senador na asawa."

In this press conference, the children of Ina Montecillo were present to talkabout their reaction to the fact that their mother will assume the highestposition of the land. PEP (Philippine Entertainment Portal) asked each of themto describe the way they encouraged (or discouraged) their mother from assumingthe Presidency.
The young mute kid Tenten (played by Yuki Kadaoka) in thefirst installment of Ang Tanging Ina is already capable of speaking.

Cate (Serena Dalrymple) said that she encouraged her mother when she became theInang Bayan by "Inencourage ko po siya kasi ang daming benefits nun, lalo na safamily namin."

In a way, Shammy (Jiro Manio) hindered the political career of Ina since he putup an illegal business.

Tri (Carlo Aquino) admitted that his character didn't want their mother to runfor the Presidency. "Ayoko pong tumakbo si Mommy kasi mahirap ang pagigingPresidente kasi hahawakan niya ang buong Pilipinas."


The eldest child still living with Ina, Severina (ShainaMagdayao) said that her character didn't like the idea of having Ina in publicoffice. "Ako na yung tumatayong ate ng mga bata. Ayaw rin ni Severina na magingPresidente ang nanay niya kasi ang daming responsibilities saka parang walanaman siyang background. Pero dahil naging Presidente si Ina, naging katulong sabahay si Severina, naging yaya siya ng mga bata."
ADVERTISEMENT - CONTINUE READING BELOW
SYNOPSIS. After 40 years of doing everything for herhuge family, Ina Montecillo starts to feel that her children don't need heranymore because they have all grown up or are fast growing up. Ina embarks on ajourney once again—a path that will take her to the highest political office ofthe land: serving as President in Malacañang Palace.
Ina changes Philippine politics by running the country notas a serious leader but as a hilarious and caring mother. Because of this, shegains the trust and support of the Filipino people. But just as she starts tobecome the President that everyone loves, she also changes and becomes themother that her children hate.


Ang Tanging Ina N'yong Lahat also stars DJ Durano asBill Bilyones, Eugene Domingo as Rowena and Cherry Pie Picache as theVice-President of Ai-Ai when she becomes President. Ms. Gloria Diaz is castas President Hillary.
The Star Cinema film
Ang Tanging Ina N'yong Lahat
hadits premiere last night, December 18, at SM Megamall. It is graded B by the Cinema Evaluation Board. The family comedy will bescreened in cinemas nationwide starting
December 25
, 2008.
The chart below lists the venues and dates of the international screenings of
AngTanging Ina N'yong Lahat.
| | | |
| --- | --- | --- |
| DATE | CITY | VENUE |
| Dec 25 - January 9 | Guam | Micronesia Mall |
| Jan 2 -9 | Seattle | Parkway Plaza Stadium 12 |
| Jan 2 -9 | Las Vegas | Regal Village Square Stadium |
| Jan 2 -9 | San Diego | UA Hortonplaza |
| Jan 2 -9 | San Francisco | UA Stonestown Twin |