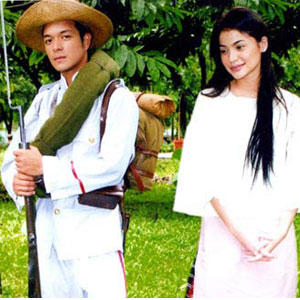 ---

Watching Viva Films' Baler is like watching amajestic eagle fly with huge stones attached to its feet—the eagle's innategrace and splendor are dragged down by the unnecessary baggage. The sub-par editing and production of thefilm handicap the otherwise noteworthy performances of its main actors,particularly that of Jericho Rosales.
SYNOPSIS. Baler is the love story of Feliza (Anne Curtis), the daughter of a rebel commander and Celso, ahalf-Spanish soldier (Jericho Rosales), set in the twilight years of theSpanish regime in the Philippines. Theyoung couple struggle to keep their forbidden love alive despite familial andpolitical tensions, culminating in an almost year-long blockade known as theSiege of Baler.
"Love is difficult in times of war," says a Filipino soldiernamed Lope (Mark Bautista) who serves the Spanish army, likeCelso does. His statement encapsulates the movie's theme. The main conflict, that of Anneand Jericho's relationship, takes place against a backdrop of clashes between father and son,mother and daughter, duty to family and country, and loyalty andself-preservation. Thus, Baler explores the question of whether love—romantic,familial or patriotic—can survive the most brutal of human endeavors: War.
THE CONS. I am thankful I am not a film student;otherwise, I am sure that I will have a lot more beef to grind against how Balerwas made. Instead of cultivating a sense of dread, drama, or even desperationfor the plight of the Spanish soldiers, the scenes were cut in a way thatprevents viewers from forming an emotional attachment to the characters. A siege is supposed to be nerve-wracking butthe fight scenes merely looked like a messy montage.
The movie's production also leaves much to be desired. A little more attention to detail could havehelped viewers in suspending their disbelief. For instance, a soldier blows a shiny trumpet even after everything intheir fort had turn to grime. The fingernails of Ryan Eigenmann remain pristineeven as the soldiers are supposed to be languishing under the siege. And why would Anne Curtis read a letterwhile holding a gas lamp underneath the document?


ADVERTISEMENT - CONTINUE READING BELOW
THE PROS. Fortunately, the performances of the mainstars are the one shining light in this movie. Phillip Salvador emphatically personifies the bitter Filipinovictimized by foreigners. His hatred for the Spaniards is white-hot and all-encompassing; the only thing thatstops his hatred from consuming him is his love for his child and for the grandsonhe later learns to love. His journey offorgiveness symbolizes the difficult yet nonetheless attainable path toward thereconciliation between invaders (Spaniards) and their victims (Filipinos).
Anne Curtis does a commendable performance of gettingviewers to disregard her obviously mestiza features and accept her as thefull-blooded Filipina she portrays. Also noteworthy is her willingness to put everything into hercharacter. When she is wracked bysorrow, everything in her shows it—shivering body and grimacing face included.Dyosa-beauty notwithstanding, she ably portrays the role of a simplegirl denied her love by the ravages of war.
The real gem of Baler, however, is Jericho Rosales.Playing a half-Spanish soldier who remains hopeful despite the seeminglyimpossible odds against their love, Jericho's character is the one viewersidentify with most easily. Celso isexactly the man you would want with you in times of hardship—working despitethe odds, loyal amidst difficulties, gentle but not averse to the use of force,ultimately true to his heart. Single-handedly, Jericho connects the viewers emotionally tothe Spaniards traditionally regarded as the enemies of Filipinos.
THE VERDICT. Baler has a good story to telland the actors portraying their roles have done their best to dramatize thattale. Director Mark Meily says that Baler is based on a true story andwith this historical film, Filipinos will be able to appreciate the rich culture and wealth of experiences that we can cull from our ancestors. Essentially, Baler is a siege of the senses for viewers.
This Metro Manila Film Fest entry is endorsed by theDepartment of Education. Baler will open in cinemas nationwide startingChristmas Day, December 25.



ADVERTISEMENT - CONTINUE READING BELOW