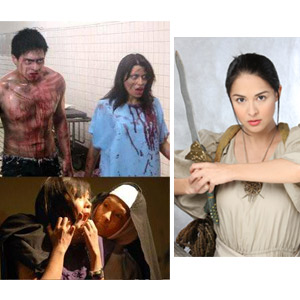 ---

Watching Shake, Rattle and Roll is part of my family's Christmas tradition. And judging from the box-office standing of the previous installments, I'm sure we're not the only ones who flock to the mall every December 25 to catch the latest edition of this horror anthology series. I stopped expecting earth-shattering cinema after 2005's installment, when it became obvious that the franchise was just copying older and more successful Shake, Rattle, and Roll episodes. That the template has become so noticeable only proves that SRR is already showing its age.


However, viewers may find Shake, Rattle, and Roll X different from its predecessors. This decade-old installment still cannot hold its own against more accomplished local horror films, but it shows that there is still hope for the country's longest running movie franchise.


THE PLOTS. Shake, Rattle, and Roll X, like all the other SRR films involves three stories. In "Emergency," paramedic Jay (JC De Vera) and doctor Sarah (Roxanne Guinoo) try to fend off vengeful creatures (led by Wendell Ramos and Mylene Dizon) that attack their rundown hospital.
In "Class Picture," Joy (Kim Chiu) finds a century-old photograph when she and her classmates (played byGerald Anderson, Niña Jose, IC Mendoza, and other teen stars) prepare for a school exhibit.
And in "Nieves," the title character (Marian Rivera) is an engkanto slayer forced out of retirement by talented wanna-be "slayers" Junie (Robert Villar) and Kaycee (Jennica Garcia).


THE VERDICT. The episodes, with the exception of "Nieves," did not step out of the Shake, Rattle, and Roll template. "Emergency," for instance, is a weak imitation of Herbert Bautista's "Manananggal" episode in this first SRR installment. "Class Picture," just like 2007's "Engkanto" and 2006's "LRT, is like a teen slayer/monster flick.

"Emergency" offers nothing new; it is a mere rehash of the typical heroes-slay-the-monster story the franchise has offered over and over again. The attempt to tell a story is there, but it is weighed down by several secondary characters and uncharismatic heroes. In the end, it makes sense to root for the Mylene Dizon and Wendell Dizon—at least you'll understand why the monsters are angry. In the middle of this monster mayhem is the love story of Sarah and Jay. However, they hardly had scenes together, and all we'd know about their relationship is that they hardly see each other and that their relationship is troubled (presumably because of infidelity).

ADVERTISEMENT - CONTINUE READING BELOW

"Class Picture," on the other hand, is the most successful as a horror film among the three episodes. It has elements of the typical Asian horror flick all over it (a curse, an item that objectifies the curse, a tragic back story for the curse's originator) and they work to director Topel Lee's advantage. It might have worked better as a full-length film; with its limited time, "Class Picture" had to resort to deus ex machina to advance the plot. In this case, a cryptic message in Spanish appears all of a sudden after one of characters dies. Later on, a computer translates the same message all by itself. Still, "Class Picture" remains one of the scariest Shake, Rattle, and Roll episodes in recent memory.

However, "Nieves" is without a doubt the film's carrier episode. It succeeds because it knew exactly what it was—a comedy. "Nieves" tackles the supernatural, all right, but more in the light of Buffy The Vampire Slayer than Supernatural.


Shake, Rattle, and Roll X is by no means a perfect horror film, but it shows a promise that it could return back to form. This horror film from Regal Entertainment is currently being screened in cinemas nationwide as part of the 34th Metro Manila Film Festival.


During the awards night held last Saturday, Robert "Bubuy" Villar bagged the Best Festival Child Performer Award for his role in the segment "Nieves."