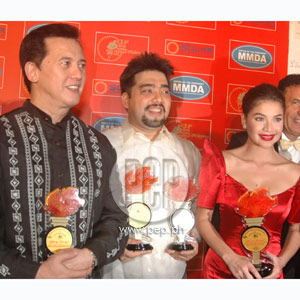 ---

The winners of the 34th Metro Manila Film Festival havealready been chosen and announced last Saturday, December 27. The historicalfilm Baler, starring Anne Curtis and Jericho Rosales, dominated theawards night when it took home ten trophies.

As soon as he entered the Harbor Tent of Sofitel Hotel, Metropolitan ManilaDevelopment Authority chairman Bayani Fernando already told PEP (PhilippineEntertainment Portal) the good news about this year's edition of the annualfilm fest. "In two days of the festival, the earnings are already 37 percentmore compared to the same period last year. Maganda sa unang dalawang araw palang yan."

The awards night of the MMFF is traditionally held in January, towards the endof the film fest, but in this year's edition, the awarding was held just twodays after the start of the 34th Metro Manila Film Festival. Why did theydecide to it this early?

The head of the MMFF committee explained that they deliberately scheduled theGabi ng Parangal as early as possible to help the filmmakers who will win theartistic and technical awards handed out during the awards night.

"Ito ay para makatulong dun sa mga mananalo para mas maka-attract pa ng mgamanonood. Para magamit rin ng mga producers natin to promote their winningpiece."

With the good figures posted by the 8 official entries, he is optimistic thatthey will be able to reach the P500 million target that they set for thisyear's earnings. He recalls that the closest they got to reaching this targetwas around two years ago when the entries earned around P415 million.

Bayani also revealed that the committee decided not to give out a prize for theBest Float even though they pushed through with the traditional Parade ofStars.

"I was surprised na ganun karaming mga artista ang sumama this year. The floatslooked good despite the fact na wala nang awards ang mga floats ngayon but theyeven turned out to be better than before."

Why did they decide to hold the awards night at a posh venue such as the HarborGarden Tent of Sofitel Hotel? "Ang movies kasi glamour 'yan e, so I think wehave to keep up with the tradition. Kaya nga stars, e, kasi they shine. Theyare always glamorous and they should simply be the best. It is also for themovie stars so they can show their best to the public.

The tickets for the MMFF awards night and Katy! The Musical Concert camewith a hefty price tag of P10,000 and more.

"Besides, we are also expecting this awards night to earn money. Kailangannaming kumita ng pera para mabigyan ng mas malaking pera yung beneficiariestulad ng Mowelfund, Film Academy of the Philippines, among others. All of thesebeneficiaries are for the development of the film industry," Bayani pointed out.


Here is the list of winners for the 34th Metro Manila Film Festival:
ADVERTISEMENT - CONTINUE READING BELOW
Best Picture: Baler (Viva Films)
2nd Best Picture: Ang Tanging Ina N'yong Lahat (StarCinema)
3rd Best Picture: Iskul Bukol: 20 Years After (OctoArtsFilms/M-ZET Productions/APT Entertainment)
Best Festival Actor: Christopher de Leon (Magkaibigan)
Best Festival Actress: Anne Curtis (Baler)
Best Supporting Actor: Phillip Salvador (Baler)
Best Supporting Actress: Manilyn Reynes (One Night Only)
Best Festival Director: Mark Meily (Baler)
Best Festival Screenplay: Roy Iglesias (Baler)
Best Festival Original Story: Jose Javier Reyes (One NightOnly)
Best Festival Child Performer: Robert Villar (Shake,Rattle & Roll X)
Best Festival Musical Score: Dayo sa Mundo ng Elementalia
Best Festival Movie Theme Song: "Lipad" (Dayo saMundo ng Elementalia)
Best Festival Cinematography: Baler
Best Festival Makeup: Desperadas 2
Best Festival Visual Effects: Dayo
Best Festival Production Design: Baler
Best Festival Sound Recording: Dayo
Best Festival Editor: Baler
Gender Sensitive Award (for promoting equality of men andwomen through film): Baler
Gatpuno Antonio Villegas Cultural Award: Baler


Click HERE to view photos of the Gabi ng Parangal.