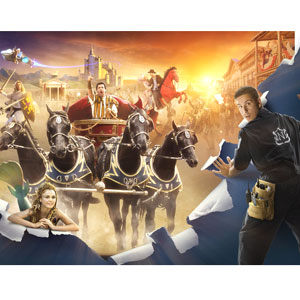 ---

Walt Disney Pictures brings to the screen the adventure comedy Bedtime Stories from director Adam Shankman (Hairspray, The Wedding Singer) and starring comic superstar Adam Sandler.

In the film, Sandler plays Skeeter Bronson, a hotel handyman whose life is changed forever when the bedtime stories he tells his niece and nephew start to mysteriously come true. When he tries to help his family by telling one outlandish tale after another, it's the kids' unexpected contributions that turn all of their lives upside down.

"He's a hard-working fella," Sandler explains of his character. "Skeeter's father owned the hotel when my character was a little kid. The father wasn't a great businessman and had to sell, but he made a deal with Mr. Nottingham, the new owner, that Skeeter might eventually run the hotel. So my character has been working and working and waiting for it to happen and the day that he thinks it's gonna happen, the job is given to another guy."

Setting the story in motion is Skeeter's sister Wendy (Courteney Cox) who calls on the handyman to look after her two children while she heads off on a job hunt. "I'm a principal at a school that's being shut down," says Cox. "So I go off to find a job and all the madness starts."

On hand to try to curb the madness and help with the children is Wendy's responsible friend Jill (Keri Russell). "I take care of the kids during the day until Adam's character finishes his shift at the hotel," says Russell. "Somehow I end up in these crazy adventures that Skeeter creates with the kids."

The crazy adventures are the bedtime stories Skeeter tells to entertain the kids at night. Dissatisfied with their book selection, he decides to make up his own stories, allowing the kids to get into the game and contribute to the crazy tales. The stories—with settings ranging from the Old West and Outer Space to Medieval Times and Ancient Greece—are brought to life throughout the movie... with some familiar characters. Explains director Shankman, "The fun thing is that Skeeter casts characters from real life as the characters in all of the stories. So everyone from Adam to Keri to Russell Brand gets to play all these crazy characters throughout the movie."

The twist, says Shankman, is that the stories Skeeter tells actually come true. "Whatever the kids kick into the story ends up coming true the next day in real life," says the director. "Between their crazy newfound reality and the outlandish fantasy sequences of the bedtime stories, there's a lot of visual candy.

"This movie has an enormous amount of heart," concludes Shankman. "It's incredible for the family. It's just magic."

Opening across the Philippines on January 8, Bedtime Stories is distributed by Walt Disney Studios Motion Pictures International.
ADVERTISEMENT - CONTINUE READING BELOW