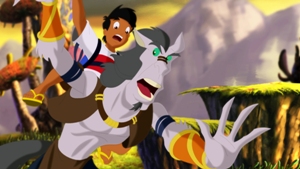 ---

Dayo sa Mundo ng Elementalia, the Philippines' first all-digital, full-length animated feature and official entry to the 34th Metro Manila Film Festival received four trophies during the festival's awards rites. The Gabi ng Parangal was held at the Harbor Garden Tent, Sofitel Philippine Plaza Manila last Saturday night, December 27.

Dayo won Best Visual Effects (Robert Quilao), Best Musical Score (Jessie Lasaten; recorded with the FILharmoniKA conducted by Gerard Salonga), Best Theme Song ("Lipad" by Jessie Lasaten and Temi Abad, Jr.; performed by Lea Salonga with the FILharmoniKA conducted by Gerard Salonga), and Best Sound (Whannie Dellosa and Mike Idioma).

"We are so thankful for these technical awards because they have validated our vision for Dayo. These awards pay tribute to all the Filipino artists, specifically our animators who have worked on the film," said executive producer Lasaten.

Dayo follows the adventure of Bubuy (voice by Nash Aguas), an 11-year-old boy from Antipolo, and Anna (voice by Hopia Legaspi), a teen manananggal, who take on a journey to save the former's beloved grandparents abducted into Elementalia—a fantasy land thriving with strange flora and fauna and home to several enchanted creatures of Philippine mythology.

Apart from Aguas and Legaspi, the film features the voices of Pokwang (Vicky), Michael V (Narsi), Noel Trinidad (Lolo Meong), Nova Villa (Lola Nita), Johnny Delgado (Carpio), Peque Gallaga (Nano), Laurice Guillen (Diwata/Bruha/Kapre), Gabe Mercado (Jo), Pocholo Gonzales (Toti), and Moymoy Palaboy and Roadfill (Tiyanaks).

Dayo is a hybrid product of paperless 2D and 3D animation, powered by Toon Boom using Macintosh and Linux platforms. 2D animation is used for the characters while 3D animation is used for the backgrounds, especially for the big scenes.

At an estimated production budget of US$1.3 million, Dayo is produced in Dolby 7.1 surround sound. The team behind Dayo, led by its executive producer and director Robert Quilao, collaborated with Technicolor in Thailand for its post-production.

Graded A by the Cinema Evaluation Board (CEB), Dayo is also being endorsed by the Department of Education and the National Council of Children's Television. It is Rated G or GP (General Patronage) by the Movie and Television Review and Classification Board.

Its award-winning theme song and musical score are included in the original movie soundtrack recently released by Sony BMG (Philippines).

Dayo sa Mundo ng Elementalia is currently being screened in cinemas nationwide as part of the 34th Metro Manila Film Festival.

ADVERTISEMENT - CONTINUE READING BELOW