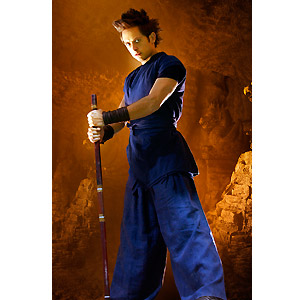 ---

Movies have become points of reference especially when it comes to fashion. The audience has learned to look forward to the sprawling collection of clothes, shoes and accessories being worn or used by their favorite stars. For the fashion forward, here are some of the films you may want to watch out for in the coming months.

There's abundance of designer coats, shoes and bags (the likes of Tod's and Coach) one can check on as Anne Hathaway and Kate Hudson make friendship a fashion trend as they battle it out in the upcoming comedy Bride Wars. Hudson and Hathaway play best friends for life until an error in their wedding dates made them bridezillas-to-be for neither will budge on their respective wedding dates. Since it's an all-service menu on wedding details, the movie is also into new hairstyles and unique gown designs.

Jennifer Aniston is every girl's epitome of style. Catch her mix and match plain, colored and printed tops, jeans, shorts and skirts as she juggles work and home in her pet project movie Marley and Me. In the movie, Jennifer Aniston and Owen Wilson star as Jenny and John Grogan. Newly-married, they begin to make their way through the challenges of a new marriage, new careers and, possibly, the life-changing decision to start a family. From being single to a working parent, watch how she puts together simple collections of clothes and accessories in the movie and still manage to look radiantly relaxed.

If you find yourself in an unfamiliar terrain or setting, take a moment to look into Nicole Kidman's wardrobe in the romantic epic adventure movie Australia where she totally embraced new ensemble from being an Englishwoman aristocrat to fit in to the rugged terrains of Australia. Designed by Ferragamo, Kidman starts from elite ensemble, floral patterns to the rugged look that reflects her personal transformation in the movie. In the movie Sarah (Kidman) is transformed by the power and the beauty of the world's most ancient continent, finding romance in the landscape, passion with The Drover (Hugh Jackman), and a maternal love for an aborigine boy named Nullah.

Dragonball heroes are out to save the world in style. Asian costumes the likes of kimonos and Japanese footwear are sprinkled with fashion updates as Justin Chatwin (War of the Worlds) heads the cast in bringing to life the manga anime cartoon popularized in the '80s.

In the high-octane adventure, Chatwin plays the heroic Son Goku, who goes on a perilous quest to save the planet from destruction. Staying true to the essence of the original, this is an epic coming-of-age tale, which crosses cultures while maintaining a vivid Asian flavor. This futuristic story combines drama, humor and excitement, with a rich cast of characters. Starring with Chatwin in Dragonball are Chow Yun-Fat, Emma Rossum, and James Marsters.

Determined that she has found her soulmate, Sandra Bullock is every bit loud and edgy in her choice of clothes in the upcoming comedy All About Steve. As a crossword puzzle constructor Mary Horowitz (Bullock) is smart, pretty and a natural disaster that shakes news cameraman Steve (Bradley Cooper) to the core. Set up on a blind date with Steve, Mary thinks the chemistry is undeniable and decides to do anything and go anywhere to be with him.

Feast your eyes out as teen idols Ashley Tisdale and Hayden Panatierre glam it up in They Came from Upstairs and I Love You Beth Cooper. These teen sensations bag a whole lot of style in the movie with knits, denims and colorful tops as they battle aliens and obsessed geeks in their all-adventure, out-of-this world flicks.
ADVERTISEMENT - CONTINUE READING BELOW