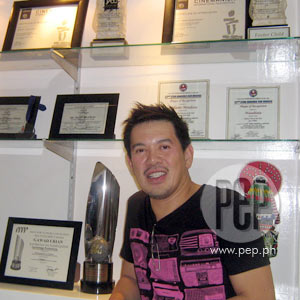 ---

Brillante "Dante" Mendoza is known for bringing thePhilippines back into the forefront of world cinema.

Three decades have passed since an entry from the Philippines has been invitedto the official competition section of the Cannes Film Festival. Way back in1978, Lino Brocka's Insiang was screened at the Director's Fortnightsection of Cannes. Two years later, Brocka followed up this achievement with aneven bigger honor: his film Jaguar was invited to the officialcompetition section of the festival held annually in France.

Direk Dante's career followed a similar pattern since his Foster Child wasincluded in the Director's Fortnight of Cannes. In 2008, his family drama Serbiswas one of the 20 films that competed in the 61st edition of the film fest.


For all these achievements, Gawad TANGLAW (Gawad Tagapuringmga Akademisyan ng Aninong Gumagalaw) has chosen Direk Dante to be therecipient of the Presidential Jury Award for Film Excellence. Aside fromhelming Serbis and Foster Child, he is cited for the films Masahista,Manoro, Kaleldo, and Tirador.

His works are distinguished for the cinema verite style of shooting, giving theimpression that the work is a documentary rather than a fictional work.

The 6th Gawad Parangal of the academe-based group will be held by March 2009.Gawad TANGLAW is composed of film critics, scholars, historians, and professorsof humanities.

Another special prize given out is the Chairman's Gawad Tanglaw ng PelikulangPilipino. According to Prof. Flaviniano Lirio, they chose to give this award toRobbie Tan for "being active in both mainstream and independent movies." Thehead honcho of Seiko Films is best known for producing sexy flicks in the pastbut he has become increasingly supportive of the independent film scene. Infact, he produced Foster Child, which received a five-minute standingovation from the Cannes audience.



Here is the partial list of winners of Gawad TANGLAW:

ADVERTISEMENT - CONTINUE READING BELOW
Best Actresses
Anita Linda for
Adela
andJudy Ann Santos for
Ploning
Best Actors
John Estrada for
Caregiver
andBaron Geisler for
Jay
Best Supporting Actress
BootsAnson-Roa for
Lovebirds
Best Supporting Actor
EmilioGarcia for
Walang Kawala
Best Director
Dante Nico Garcia; EllenOngkeko-Marfil; and Chris Martinez
Best Pictures
Ploning; Boses;
and
100