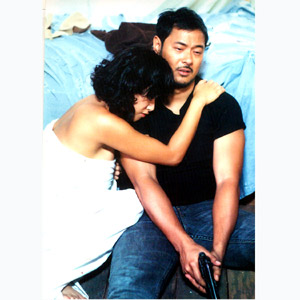 ---

With the introduction of digital filmmaking in thecountry, it is now less costly to produce movies. Filipinos are warming up tothe idea of indie films as more and more of these digital full-length featuresare produced each year.
However, not all of them are shown in theaters. Eventhe movies that have received accolades in the international film festivalcircuit are finding it hard to land distribution deals locally. Why? Becausethey don't make enough money.
A huge chunk of indie films that get the chanceto be shown in cinemas are sexy movies. Enamored by the belief that "sexsells," some filmmakers exploit the digital medium to make a killing in the boxoffice, thus giving indie films a bad name.
It is easy to classify Butas (Loophole)under the bold movie category. But unlike the bomba movies of the '90s,this film attempts to tell a multi-faceted story that discusses the variousversions of the "truth." It employs an experimental narrative technique thatveers away from mainstream norms.
THE PLOT. Directed by Alejandro "Bong"Ramos (of the award-winning Haw-Ang), Butas introduces us tothree characters whose lives are interlocked in a muddle of lust, treachery,and passion. Jake (Allen Dizon) finds out that his wife, Maya (Gwen Garci), ishaving an illicit affair with their neighbor, Virgo (Marco Morales). Jakesecretly follows them to their rendezvous, then sees for himself how Virgo andMaya satiate each other's carnal desire. A deafening shot is heard. Virgo collapses on the floor, bathing in his own blood.
According to Jake, he isresponsible for the death of Virgo since he had planned to do so. Video footage retrieved from the crime scene, however, provides infallible evidence thatcontradicts some details about Jake's testimonial. Which version of the events canbe trusted? The testimony of the suspected killer or the fragmented videofootage?
THE VERDICT. The first act, Jake's versionof the events, feels like an extended monologue. We see him stalking Maya andVirgo, eavesdropping on their conversation, watching their erotic encounter bypeeping through a hole from the ceiling, and crying incessantly on his own. Forthe entire time, we hear his voice-over narration as he verbalizes inexcruciating detail his angst and grief.
ADVERTISEMENT - CONTINUE READING BELOW
This could have worked for the film'sbenefit, but the first act was stretched heedlessly as the monologue went onand on, refusing to end. Moreover, the score made the scenes feel too staged. Butascould have opted for a more realistic approach by employing minimal score andrelying on au naturel sound to build dramatic tension at the subliminallevel.
Things become interesting in thesecond act. Video footage, which employs a dizzying Blair Witch-esquecinematography, is then shown to the audience. Viewers are able to observe Mayaand Virgo's sexual act as seen through a peephole in imitation of Jake'sperspective. It's basically the same story as Jake's but this version isgrittier and more graphic. The video does not reveal the identity of Virgo'skiller, but it exposes a new angle to the mystery. A seemingly run-off-the-millstory of infidelity suddenly shifts gear to tackle something more alarming—sexvoyeurism.
Aside from full frontal nudity, Gwen and Marco did notreally offer much for the film. Gwen needs to improve on her acting. She throwslines as if she were reciting poetry. The role demands her to be happy, angry,high, conscientious and regretful at different circumstances, but Gwen doesn'texhibit the inner conflicts of her character. She ends up wearing the sameexpression all throughout the film.
Meanwhile, Allen is left with nothing todo but peep through the hole, walk aimlessly, and cry during the first act. Buthe soon redeems himself by showing a range of emotions through effectivefacial expressions.
THE BOTTOMLINE. Butas stretches the fabricof truth to produce three versions of a single incident. Its efforts generallypaid off but with polished editing on the first act and casting a more capableactress for the role of Maya, this material could have serious potential.


Butas (Loophole) will have a one-night screening at the University of the Philippines-Diliman on January 12 (Monday) at 7 p.m. For ticket inquiries, call the UP Film Institute at Tel. No. 926-3640. It is also scheduled to be screened in selected cinemas starting January 22.
ADVERTISEMENT - CONTINUE READING BELOW
Fidel Antonio Medel is a cum laude graduate of the University ofSanto Tomas and a member of the Thomasian Writers Guild, the literarycircle of UST.He also served as the editor-in-chief of the college paper.