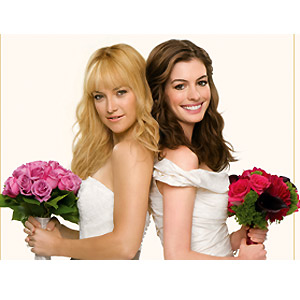 ---

Every wedding has a story but this one isn't about a bride and a groom; it's about a bride...and a bride in Bride Wars starring Anne Hathaway and Kate Hudson.

Liv (Kate Hudson) and Emma (Anne Hathaway) are best friends who since childhood have planned every detail of their respective weddings. At the top of their bridal "must have" list: a ceremony at New York's ultimate bridal destination, the Plaza Hotel. Now, they're both about to get married; they're about to realize their dreams; and they're about to live happily ever after.

But when a clerical error causes a clash in wedding dates--they're now to be married on the same date--Liv, Emma and their lifelong friendship are put to the ultimate test. Liv, a successful lawyer who is used to getting what she wants, including the perfect job and the perfect man, won't settle for anything less than the perfect wedding she has dreamed of for years. Emma, a schoolteacher who has always been good at taking care of others, but not so much in looking after herself, discovers her inner Bridezilla and comes out swinging when her own dream wedding is imperiled.

Now, the two best friends who'd do anything for each other, find themselves in a no-holds-barred, take-no-prisoners struggle that threatens to erupt into all-out war.

It was the complex friendship between the two characters that attracted the attention of director Gary Winick, who states that "friendship is the most important thing in my life. So that's why I wanted to make Bride Wars; it's about best friends--two incomplete people who together are complete. But they have to be apart to learn how to grow as individuals and as friends."

Director Gary Winick is no stranger to the theme, noting that a previous directorial effort, the live-action/animation Charlotte's Web, was at its heart the story of a friendship between a pig and a spider. And he downplays the fact that that most of his key creative team are women, including Hudson, Hathaway, Yorn, writers Wilson & Raphael, and the principal studio executives on the project. After all, he points, out, he helmed 13 Going on 30, the popular 2004 comedy starring Jennifer Garner, and whose writers and producers were female; as well as the pilot for Lipstick Jungle, about three powerful women in New York City.

"I don't pick the material [I work on] based on the gender of its creative team and characters," says Winick. "Those projects were stories I wanted to tell."

With Winick at the helm, "Bride Wars" moved quickly into production. Hudson and Hathaway, who didn't know each other prior to teaming up on the film, became fast friends--and fans of each other. "We're both opinionated women," says Hathaway. "So it was really fun picking each other's brains about the characters. Kate's persona is exactly the way I had envisioned it--fun, effervescent, warm-spirited and smart." Adds Hudson: "Anne and I took our time getting to know each other, and I think we've created a pretty true friendship [onscreen]. Anne is authentic, not to mention wildly talented. It's really been a joy to work with her."

The filmmakers brought on screenwriters Casey Wilson & June Diane Raphael, themselves best friends, to further explore Liv and Emma's longtime bond through the prism of pre-wedding craziness. "The bride wars are a backdrop against which their friendship plays out," says Wilson, a writer-performer on Saturday Night Live.

"There's a comic darkness behind preparing for a wedding, and we drew on how insane the process can get." Adds Raphael: "Bride Wars is about friendship and the crazy ways in which your best friend--the person who knows you so well--can also bring out the very worst in you. And that can be very scary. Friendships are sometimes difficult to navigate, especially when we know exactly where the other person's flaws and insecurities live."

Bride Wars opens on January 15 in Philippine theaters courtesy of 20th Century Fox to be distributed by Warner Bros.


ADVERTISEMENT - CONTINUE READING BELOW